The Overview: Day 3
Beefy, Nass, Athers, Bumble and the gang debate big scores for Cook and Pietersen, the form of Monty Panesar and why Johnny Bairstow needs to learn the rules...
Last Updated: 25/11/12 1:06pm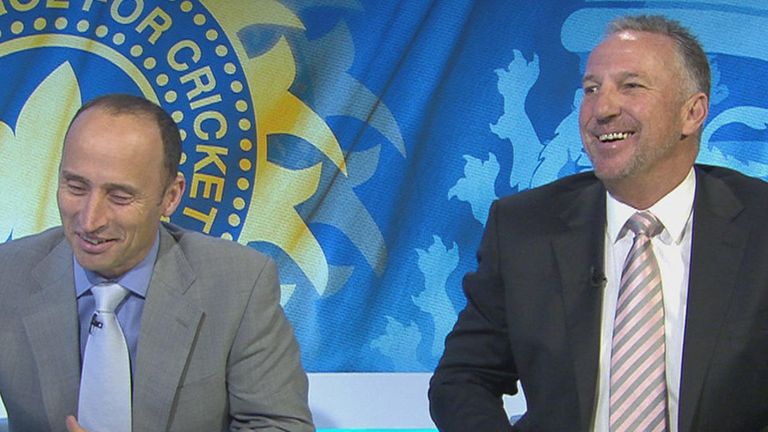 The Sky Sports commentary team were up bright and early to see both batsmen post the 22nd centuries of their Test careers and join Wally Hammond, Geoffrey Boycott and Colin Cowderey at the top of the list of England's all-time Test match hundred-scorers.
Cook's wicket was the first to fall, but not before he'd notched up a fine 122, and David Lloyd noted the robotic way in which he gathers big scores...
Bumble: He's a machine this guy; he accumulates runs and has been quite expansive in this innings. I would say that he has enjoyed this innings and you say that English players can't play spin on the sub-continent... well here's one that can! It's a wonderful innings. In the end it was a feather through and a wicket at long last, after about 90 overs, for Ashwin.
The next wicket provided plenty of controversy as Jonny Bairstow was caught by Gautam Gambhir at silly point - but replays showed the ball had deflected off the fielder's grille. It should have been called a dead ball - but instead the batsman walked off the field...
Sir Ian Botham: Johnny Bairstow was a little naive with the shot, but that's part of his learning curve, but it hits the helmet. I'm sorry, that's just not out. I'm amazed that Johnny Bairstow doesn't know the law, otherwise he'd have queried it. If it hits the helmet or touched any part of the helmet it is then a dead ball. The umpires could have called to have seen that and I'm not sure they've even considered it. That's a mistake boys.
Bumble: Well my opinion is that's got nothing to do with MS Dhoni, he shouldn't have been asked, but it's got a lot to do with Johnny Bairstow. If he'd known the laws - and he's a young lad and maybe they don't know the laws - he could have stood his ground and politely said it hit his helmet.
Beefy: The word we're hearing is that the umpires couldn't reverse the decision because he'd walked off the field. The only way the decision could be changed is if India withdrew the appeal. They had a discussion and they didn't. I think it's a case of ignorance of the laws. It's a little bit like getting an inside edge, you can't go and change the decision, and I think that was a case there.
Despite that controversy, the talk of the box at lunch time was England's record-setting batsmen. Michael Atherton said it's hard to compare eras, but both players deserve their place in the record books...
Athers: It was another good morning for England and how easy did Cook and Pietersen make it look? It's a bit of an illusion really because we all know it's not easy facing spin out here, but they made it look so and that was a measure of their control and mastery. It was two outstanding performances from those two. It's very difficult to compare across eras, but you'd put Pietersen in the Hammond and Compton class of players who've looked to destroy opposition bowlers and then Cook in the Boycott class of one of the great accumulators that England have had. It's two entirely different ways of going about it, but both are high class and the runs speak for themselves.
Cook and Pietersen's ton-scoring form sparked a lively debate about whether the standard of cricket is improving...
Athers: Even in the short time I've stopped playing the standards of batsmanship are rising rapidly and fielding as well. I'm not saying the standards of bowling are any worse than they were, but they're not improving as quickly. In the professional era the whole aim is to get as good as they can get and if you think about batting it's easier because you can have a bowling machine that fires balls out and there's no limit to how much you can practise. I think there are physical limitations on the bowlers; they can't practise for six hours on end because it's going to ruin them body-wise. They've got to save that energy for the match. Maybe it's not surprising that it's easier for batting to improve more rapidly than bowling. Just a theory.
Bumble: I agree with the batting aspect of that, but I'll take Michael to task. I don't think fielding's improved at all. I think it's gone back slightly; watch India in the field - they're not good enough or fit enough as a fielding unit and England are dropping chances all the time. That's cyclical I would say.
Nick: I think fielding has improved, so I disagree with Bumble and I agree with Michael Atherton. I think batting has come forward. Right at the end of my career you had computer analysis and all this sports science presented to you so you can analyse your own game in much greater depth than you could when I first started.
David G: Trust me, when I first started playing my captain Ray Illingworth analysed me big time! He could tell me as much as any computer and he could put it in a very different fashion. If you put me in front of a computer and say that's why I'm playing badly I'll take a hammer to that computer. If you give me a good captain or a good coach I would listen.
Back to the game and Pietsersen was eventually dismissed by the left-arm spin of Ohja - MS Dhoni taking a sharp catch - and the boys paid tribute to a magnificent innings of 186.
Nass: He can do things that other batsmen can't do. He is unbelievably good and his 186 has put England in this position. I know Cook has played unbelievably well as well, but the speed at which Pietersen got those runs and his return to form has been amazing. He is an incredible player.
Beefy: He rises to the situation. He is an enormously talented player. He is probably the most aggressive player in world cricket at the moment in terms of being continuously successful. He has scored 186 off 230-odd balls today and as Nass says quite rightly, he's given England a great chance - as he did in Colombo - of winning this game.
Nass: Pietersen was right to be suspended last summer for one game; he had done so many bad things over a period of time and England got it just about right; ban him for one game and get him back in the side. But they've got to be careful with Pietersen. To be that great, sometimes you are a little bit weird and a little bit different and you say silly things and do different things. He will always do that - but he can also play like that and there's got to be room and a bit of understanding that he is different, he is unique and we are going to let him go occasionally and be Kevin Pietersen. You don't want everyone to be the same.
England's tail crumbled from 382-5 to 413 all out and at tea the boys debated Cook's approach on a pitch that appeared to be turning (despite Athers' insistence that it's an 'illusion'...) How should the England captain use his bowlers in the third session of the day?
Nass: It is turning more and it's not an easy pitch to start on and that's the decision that Alastair Cook's got to make. James Anderson definitely starts, but does he start with Broad or does he start with a spinner? I personally would go with a spinner because you don't want to give Sehwag 30 up front. These runs are like gold dust. You want to attack, but you want to value the 80-odd run lead.
Athers: We'll see what happens in the session coming up, but if I was the England captain I would be very happy to have those two spinners in my team as opposed to the spinners on the opposition team. I don't think there's anything to choose between them and, if anything, I think England's spinners look a little more dangerous than India's.
Cook heeded the advice and Monty Panesar was given the new ball before making significant inroads, sharing seven wickets with Graeme Swann before close
Bumble: What a game this has turned out to be. India are tottering, they are absolutely on the brink. Well bowled Monty Panesar with 10 wickets in the game, but it's not over yet. You could see it coming on a spinning pitch. We saw the excellence of England's batting today through Cook and Pietersen; India's spinners did nothing wrong but it was brilliant batting. Then the spinners got to work with Panesar (5-61) opening the bowling and Graeme Swann (2-39) in tandem with him. This was a wonderful day of cricket and India, the masters of spin, have found it so difficult against Swann and Panesar. There's still work to do for England, but lots to cheer if you're an England supporter.
And that left Athers wondering which performance should be remembered as the match-winning one for England... Pietersen or Panesar?
Athers: They are the two-match-winning performances and I don't know whether you can weigh them in the balance and put one over the other. Panesar has come back into the team and the pace at which he has bowled has been interesting. He really fired the ball into the pitch and got his rewards and there was a hint of panic about India tonight. That was the pressure that Panesar and Swann applied on India, all on the back of Cook and Pietersen. So Panesar? Cook? Pietersen? Great performances, all but I think Pietersen's was a notch above - just for the extraordinary shots he was playing on a pitch that is unbelievably difficult. He was making it look so easy and that is the hallmark of genius.
Join the boys from 3.55am on Sky Sports 1 HD on Monday morning to see if England can wrap up a famous victory.