Michael Atherton hails Kevin Pietersen as cricket 'genius' after 186 against India
Michael Atherton says the genius of Kevin Pietersen will have India worried for the rest of the series.
Last Updated: 26/11/12 9:31pm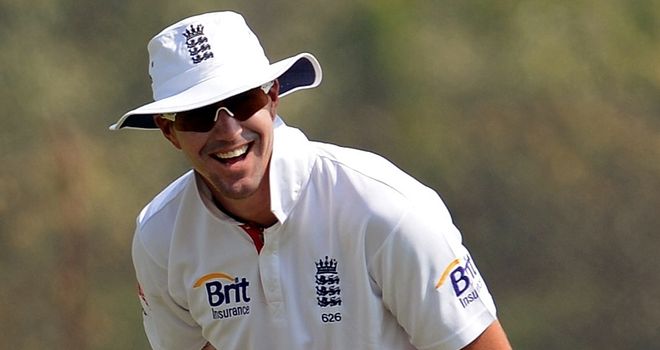 After a disappointing display in the first Test in Ahmedabad when he was twice dismissed cheaply by the left-arm spin of Pragyan Ojha, Pietersen produced one of the best performances of his career as his 186 has helped England to the brink of victory in the second Test.
Alastair Cook produced a century of his own and Monty Panesar has taken 10 wickets in the match so far as India closed on 117-7, a lead of just 31 going into day four.
But Atherton said Pietersen outshone everybody with a display of batting that no other English player is capable of.
"Cook and Panesar produced great performances, but I think Pietersen was a notch above," he said.
"I say that just for the extraordinary shots he was playing on a pitch that is unbelievably difficult. He was making it look so easy and that is the hallmark of genius.
"He has been in good form all year. We saw that hundred in his penultimate Test match at Headingley and then a brilliant hundred in Colombo. His form throughout the year has been sensational, really.
"Even the best players, I suppose, are allowed a bad game but the contrast between the frenetic start that he had in Ahmedabad and here is stark.
"Chatting to Shane Warne on the pitch the other day, he admitted his brain was slightly scrambled and he wasn't quite sure what he was doing - and you could see that in Ahmedabad - but you have to allow even the best players the odd bad game.
"Alastair Cook knew when he said he wanted Pietersen back in the side that this is why. He can do things that other players can't. It makes England a whole lot of a different outfit when he's in that team.
"It's the fear factor. Cook will keep going and will bleed India to death, but there's a fear factor that Pietersen will give to Mahendra Singh Dhoni and his bowlers because of the speed at which he scores.
"He just changes the game quickly."
Great
Atherton believes England should wrap up a big victory on day four and the dominance of spinners Monty Panesar and Graeme Swann will give the home side plenty to think about ahead of the final two matches in the series.
And he said that Alastair Cook's second century of the tour should not be underestimated as he proved that English batsmen can make big scores on the subcontinent.
"He played in this innings better than I've ever seen him play before," Atherton added.
"Obviously he's played many great innings for England, but there was a certainty and a fluency about his play here on a very difficult pitch that was simply outstanding.
"If England do win this game it will be a famous, famous victory here in Mumbai and it will set them up with two games to go.
"India have been hoist by their own petard here because Dhoni wanted a pitch that spun on day one and it looks to me like Swann and Panesar are a little bit more threatening than India's spinners, so where do India go from here?
"Do they continue to ask for and produce turners or do they backtrack slightly and go for a slightly different strategy?
"It's set up for a really fascinating couple of weeks."