Kevin Pietersen credits an improved defence for his superb Mumbai century
Kevin Pietersen said an improved defence was the foundation for his brilliant innings of 186 in the second Test.
Last Updated: 25/11/12 11:48pm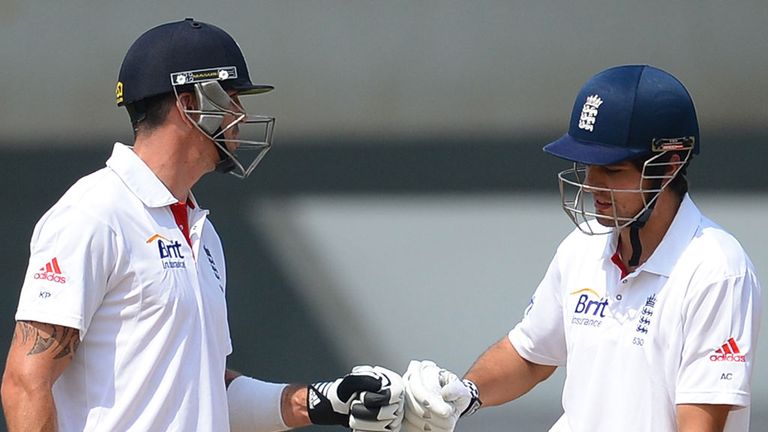 On a great day for the tourists in Mumbai, Pietersen and his captain Alastair Cook (122) both scored their 22nd Test hundreds to go level with Wally Hammond, Geoff Boycott and Colin Cowdrey as England's most prolific all-time centurions.
And Monty Panesar then took 5-61 to reduce India to 117-7 and leave England, who trail by just 31, on the brink of a series-levelling victory.
Pietersen said: "We've come out here to try and win, and we wanted to front up here.
"The captain asked that of us before the game and some of the guys have gone a long way towards hopefully winning a Test for us tomorrow.
"Cookie got to 22 (hundreds) and then said to me 'you haven't got far to go, then you're there as well' - that was a special moment.
"'Chef' (Cook) was magnificent and it's a great feeling to be at the top of the list with him.
"I trusted my defence more than in Ahmedabad (where England lost the first Test) and, if you don't trust your defence, then you try too many things and you try to force the issue.
"I put in some hard work on it, as I do, and luckily it paid off. When you get happy with your defence as a batter, you go out there not worried about being knocked over or trying to do something silly.
"You can be a bit more patient and you can play your game and I just waited for the ball in this innings.
"It was a pretty difficult wicket. You knew that at some stage a ball had your name on it, so to have got some (runs) on that was satisfying. It will mean a lot more if we win tomorrow."
We're sticking together
Pietersen was dropped from the Test squad in August after saying he did not find it easy being in the England dressing room and allegedly sending derogatory text messages about his team mates.
But he is now back in the squad and added: "The dressing room is absolutely fantastic.
"We're sticking together really well, all helping each other out, and not letting things get on top of us.
"If anybody is going through a rough time, everybody else is right behind them. It's a very united dressing room at the moment, and it will be even more so if we manage to pull off a brilliant victory tomorrow."