England paceman Steven Finn fit for third Test against India
England paceman Steven Finn has declared himself ready to return to action in the third Test against India in Kolkata.
Last Updated: 03/12/12 1:58pm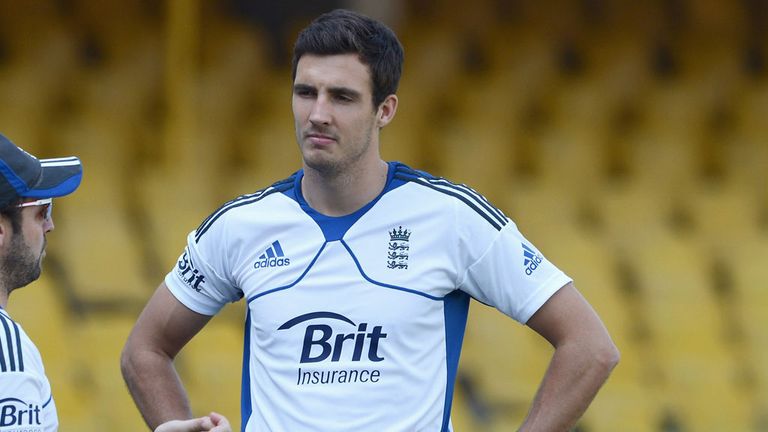 The 23-year-old missed the first two Tests with a thigh injury but proved his fitness by taking 4-50 in a game for the Performance Programme side last week.
Finn bowled four-over spells in the nets at Eden Gardens on Monday morning before resting and doing some fielding drills and then bowling again.
He has been tipped to replace Stuart Broad, who has been struggling to find his rhythm, in the team although all-rounder Samit Patel is another candidate to step down.
Finn said: "If I'm needed on Wednesday I'm ready to go. I have had a little bit of time out and I feel fresh for it.
"You can put a positive spin on it and say the rest of my body has had a chance to recover from the season and the Twenty20 World Cup. I feel fresh in my body, I feel good when I am bowling in the nets now and I can't feel the quad at all.
"Initially we were working toward the second Test but it took another 10 days or so more than we expected. It was obviously frustrating."
Former England captain Andrew Strauss thinks Finn can add some urgency to England's attack.
He told Sky Sports News: "I think what Steven does bring to the side is that little bit more impetus and raw firepower.
"All the seamers have struggled out there so far and maybe Steven can blast a couple of wickets out.
"But then the seamers have done their job. They have stuck at it in pretty difficult conditions. You are not really expecting them to get five or six wickets over there.
"Their job is to hold up an end, hopefully get one or two out and then the spinners can do the majority of the work."