Jonathan Trott believes wear and tear of pitch will help England's bid for victory in India
Jonathan Trott believes England's attack will benefit from a wearing wicket when India bat again in Kolkata.
Last Updated: 07/12/12 10:08pm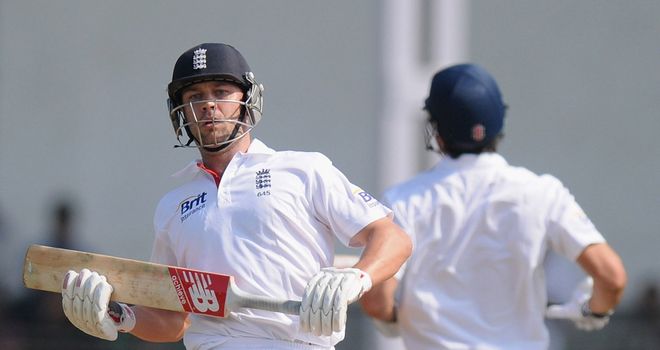 Alastair Cook's magnificent 190 and half-centuries from Nick Compton, Trott and Kevin Pietersen have powered England into a 193-run lead, closing the third day on 509-6.
But as well as England have batted, Trott has been encouraged by signs that an excellent batting track started to shows signs of deterioration when India took the second new ball.
"The second new ball got a bit more bounce from the spinners when they got hold of it," said Trott. "It was pretty flat for the first couple of days. Now there's maybe a bit more turn, and variable bounce.
"I had a few that I left that kept low. If they'd been straight it would have been quite tricky," added Trott, who made 87 in a second-wicket stand of 173 with Cook that consolidated England's dominant position.
"This was a good day for us, and what we wanted at the start of it," Trott said. "We didn't want to put too much pressure on ourselves, thinking we'd had a good second day and had to back that up.
"It was just important Alastair and I continued the good work he and Nick Compton had done. It's been tricky, but I think we've just played a lot better in these last two games than we did in the first."