Spinner Ravi Ashwin admits Jonathan Trott annoyed India in Nagpur
India spinner Ravi Ashwin admits he was annoyed by Jonathan Trott on the fourth day of the fourth Test.
Last Updated: 16/12/12 2:40pm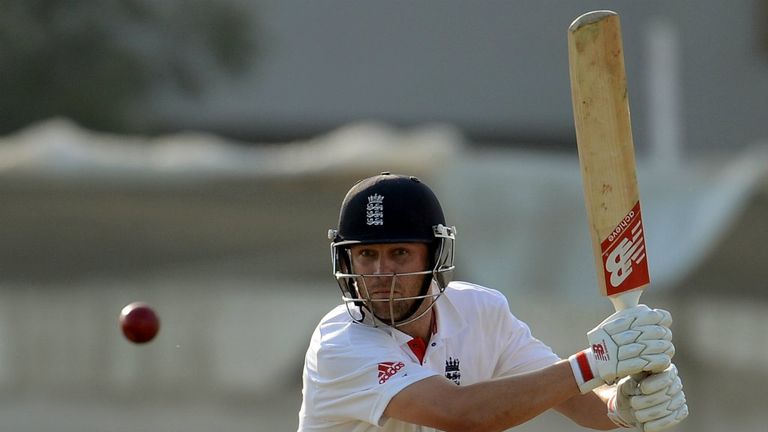 Trott was at the centre of all the action on day four in Nagpur, battling away to reach stumps on 66 not out but he was involved in three incidents which annoyed the hosts.
The first seemed to amuse everyone; spinner Ravindra Jadeja let the ball slip out of his grasp as he bowled, and as it trickled slowly towards long leg Trott skipped several paces to his left and swiped it for four - as the rules allow.
Then on 43, seamer Ishant Sharma and captain Mahendra Singh Dhoni were convinced they had Trott caught behind on the cut - only for umpire Kumar Dharmasena to disagree.
Warning
That caused a row, with Trott blowing kisses at Sharma. Then Ashwin was exasperated by Trott backing up too far at the non-striker's end and stopped in his delivery stride to warn he could run him out.
"I can run him out if he can hit that ball," Ashwin said, a reference to Trott's boundary off Jadeja.
"He said 'run me out then'. I said I wouldn't."
Trott's caught-behind survival was the most obvious source of Indian aggravation - but for Ashwin, it was the bonus four beforehand that was most annoying.
"It's just the shot that he got away from that rolling ball," he said. "It just seemed to us it was a little innocuous.
"When you talk about gamesmanship and sportsmanship I think you should hold by yourself to actually expect the same from opponents.
"We are pushing for a win, but nothing got out of hand. It was just one or two words exchanged."
He insists he was never serious about taking revenge by running Trott out backing up.
"I wouldn't. He's got out enough times for us to actually get him out again," Ashwin said.