Alastair Cook upbeat on England's latest trip for one-day series in India
Skipper Alastair Cook cannot wait for England to get stuck into their latest overseas adventure in India.
Last Updated: 02/01/13 11:13pm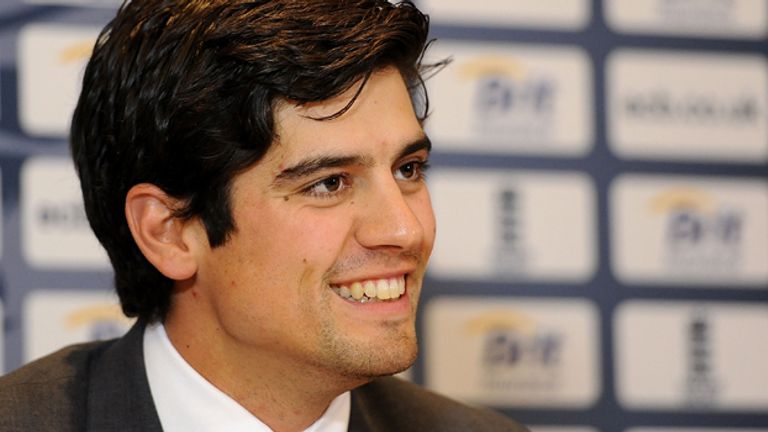 Fresh from leading the side to a first Test series triumph in India for 28 years, Cook now has another mountain to climb in the shorter format under the guidance of new limited overs coach Ashley Giles.
They have beaten the 50 over world champions just once in their last 18 one day internationals in India dating back to 2002, losing the last three away series 5-1, 5-0 and 5-0.
Despite the poor record, Cook said: "We lost there 5-0 last time so it would be a really good measure of us as a side. I think we have a squad capable of doing something very special.
"Every time you start a tour it is a huge challenge. When I sat here two and a half months ago I said winning a Test series in India would be a great achievement.
"To do that was a great effort by our whole squad and our whole team. As sport moves on very quickly and India in their own back yard as a one-day team is another huge challenge for us as a side."
Cook, captain for the whitewash in 2011, is desperate to bond quickly with Giles, who has taken over the one-day and Twenty20 reins from Andy Flower, allowing England's director of cricket to focus on the Test team and the Ashes series against Australia.
"This is unknown territory. We haven't done it before," Cook added. "It is a bit like the three captains.
"It was new and I thought it worked really well because of the energy the captains brought to their side. I can see this working the same way on the coaching side.
"We are going to have to work very hard on the relationship. I am sure as we get used to it the relationship will improve and I have no worries about it working well."
England begin their tour with two warm-up games, on Sunday and Tuesday, before they face India in a five match one-day series, starting a week on Friday.
Cook first knew Giles as a player after he was called into the England squad in Pakistan in 2005.
"He was a senior citizen of the side when I first went to Pakistan," the 28-year-old said.
"He was really good to me. He was kind of called 'the Dad' in one way. He was that gel in the middle of the team, always looking after players.
"He had a very strong relationship with Duncan Fletcher as well and he was the bridge between some of the players and him. I assume he will carry on that relationship with players as a coach.
"He has a fantastic coaching record. Everyone who has worked with him speaks very highly of him.
"I am really looking forward to our coach and captain relationship growing. We all know how strong that needs to be. I am looking forward to getting stuck in and moving on again with England with a different coach."