Jason Gillespie believes Australia can upset England in this year's Ashes
Former Australia international Jason Gillespie believes the Baggy Greens can cause an upset in next summer's Ashes.
Last Updated: 08/01/13 7:08am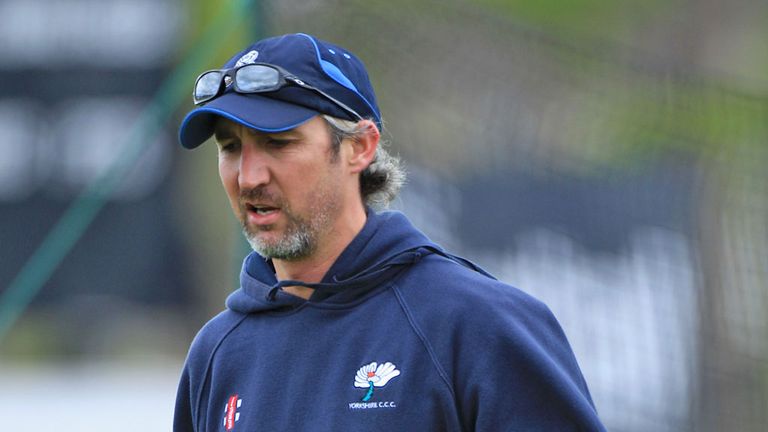 England have won three of the last four series since 2005, including a 3-1 success over Australia in the last meeting down under in 2010/11.
Andy Flower's men are in fine form on the Test scene in the wake of their historic series success in India, although Australia also impressed in 2012.
Gillespie's only concern ahead of next year's 10 Test matches between the nations is whether spin bowler Nathan Lyon can fulfil his potential and whether the tourists can fill the voids vacated by retired batsmen Ricky Ponting and Mike Hussey.
"I think Australia versus England in Ashes cricket is the ultimate in Test cricket, it's as simple as that," he told Sky Sports.
"I think Jimmy Anderson is at the top of his game, he's a wonderful fast bowler. He's adapted and learned through playing a lot of international cricket. He's comfortably one of the best bowlers going around in world cricket.
"I don't necessarily agree England have the edge over Australia with conditions. I think a lot of people over here are going to be surprised just how good a pace battery Australia have created. There are a lot of young fast bowlers, who all bowl close to 90mph, all getting opportunities playing international cricket. That will hold them in good stead for the next couple of years.
"I'd be very surprised if England come out and produce big turning wickets. I think their best cricket in the United Kingdom is when they frontline fast bowlers and Graeme Swann. Swann is a very important member of the England side.
"In 2012 Australia have done quite well, although they lost 1-0 to South Africa. I think they won eight Test matches and only lost the one during the year. They are in some pretty decent form. They are bringing through some young fast bowlers.
"There are two areas that Australia are not 100 per cent certain about and one is their spin bowling option Nathan Lyon. I think he's a wonderful young bowler and I'm pleased Australia are giving him a good run. They will be a little bit concerned he hasn't been able to impact as much late in Test matches.
"Their other concern, especially with the retirements of two legends in Ricky Ponting and Mike Hussey, is their top-order batting. They are still unsure about Ed Cowan at the top of the order. David Warner is proving to be a very good opening batsman in Test cricket. Phil Hughes has come back to the Test side for the third time. We might see someone like Usman Khawaja come in."