Snow scuppers Stuart Broad's hopes of joining England in India
Stuart Broad will not link up with England for their last two one-day internationals against India.
Last Updated: 20/01/13 12:29pm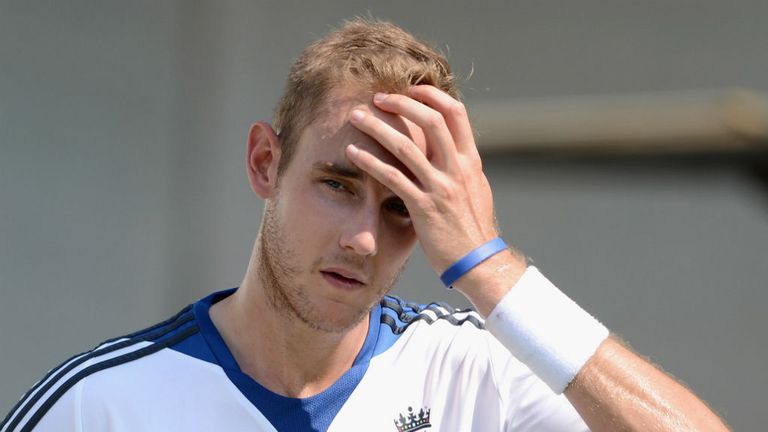 The seam bowler, who has been recovering from a heel injury, was due to meet up with the squad in Chandigarh and feature in the final two one-day internationals.
But Broad, who has not played competitively since the second Test in Mumbai in November, was left grounded in the UK due to the extensive cancellations and delays at Heathrow.
Broad will continue to bowl at the National Performance Centre in Loughborough before joining his team-mates in New Zealand, on the next leg of their winter travels.
Broad tweeted: "Gutted I can't get to India. I'm off home with all my luggage at Heathrow. Ill be waiting for the lads in New Zealand!!"
England's one-day coach Ashley Giles admitted the delay was a disappointment, but believes there is still plenty of time to get Broad ready before the first Twenty20 in Auckland on February 9.
"Stuart is not coming to India now," confirmed Giles. "He got snowed in at Heathrow and I think his bags went missing as well, so he is going to join us out in New Zealand.
"It's not ideal because we were hoping for him to come out here and, whether or not he played in one of the last two games, just do some prep for New Zealand.
"But we have a bit of time in New Zealand and he'll meet us there. It can't be helped; you can't do much about snow."
Broad had taken to Twitter on Friday to air his frustrations, saying: "Been boarded. Now cancelled!!! 2nd time this week!!! Not been my week in airports! Oh well, could be worse right!!"
He then added: "Actually. It couldn't be much worse. Hotels at Heathrow bound to be full, freezing cold, I'm dressed for India, 7% phone battery. #cheers"