Ashley Giles warns England to improve quickly or face more heavy defeats
Ashley Giles says England must improve quickly or India will "walk all over" them in the final two ODIs.
Last Updated: 21/01/13 11:13am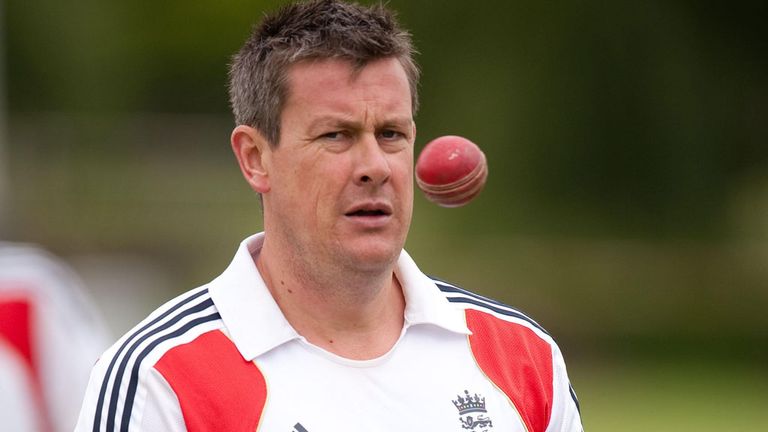 Giles enjoyed a dream start to his new role as England's limited-overs coach when the tourists pulled off a stunning victory in the opening game of the five-match series in Rajkot.
But in the next two matches England have been on the wrong end of hidings, bowled out for 158 in Kochi and 155 in Ranchi as India took a 2-1 lead.
Giles pulled no punches in his assessment of the last two matches, but is clear about the need to look forward and ensure the same mistakes are not repeated.
"The guys all felt pretty low last night because we got a good hiding at the hands of the Indians," he said.
"It's a concern because it has happened twice in a row now.
"Ultimately we're not going to win too many games of cricket with 150, that's pretty plain.
"It can affect confidence, definitely. You feel knocked and everyone in the dressing room is disappointed, but we have to bounce back.
"There's no point in moping or dragging yourself around for a couple of days. The next game is on Wednesday and the one thing we have to be is up for it.
"If we take a backwards step now the Indians will walk all over us. It's important we are up for the fight."
The next game is on Wednesday in Mohali, and Giles has few options to shake up the line-up, though county team-mates could be vying for two spots.
Jos Buttler is the spare batsman in the squad and could be handed the gloves if England lose patience with his out-of-form Somerset team-mate Craig Kieswetter.
Fast bowler Jade Dernbach - who now has the worst economy rate in ODI history at 6.28 - is also under pressure from his Surrey colleague Stuart Meaker, though Hampshire spinner Danny Briggs is also available.
"Part of this trip was always about having a look at different options," Giles said.
"Myself and the captain will talk about it in the next couple of days because we need to see the wicket before we make any big decisions.
"We have a good squad here, with depth, and we have to pick the best team to win the next game of cricket. That will be a hot topic over the next day or two."