New Zealand v England: Alastair Cook delighted with ODI series victory
Alastair Cook admitted England's fast start to the deciding ODI in Auckland made all the difference.
Last Updated: 23/02/13 7:26pm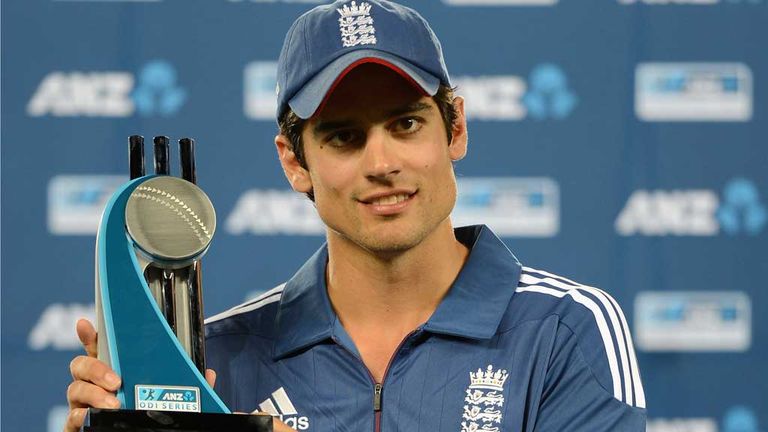 England secured the series 2-1 at Eden Park, with Steven Finn the driving force as he took 3-27, including a couple of early wickets, as New Zealand were bowled out for a paltry 185.
That target was never likely to be defended, although New Zealand did manage to eke out five England batsmen before Joe Root saw the tourists over the line with more than 12 overs remaining.
Cook said: "Those last two games, the character we showed - they were must win games for us and can only bode well for us in the future.
"We were a little bit rusty in the first game, but the way we went about things putting it right we can really take from. We were excellent up front. The bowlers really set the tone and 180 on that wicket should never be enough.
"I think they were 20-2 in the game before, and today they were 20-3 after 10 or 15 overs. From a captain's point of view it's pretty easy after that.
"When McCullum gets going it's a little bit frustrating, but 180 wasn't enough and we handled the pressure of chasing pretty well. We probably lost a couple too many wickets if we're being harsh, but it was pretty comfortable.
"They have been magnificent, these two games. I thought Finny's pace... I think he's up around the 90mph mark pretty much all the time, and Jimmy Anderson is world class and he showed it again here.
"It's quite easy to captain in the first few overs when you've got that sort of control. We're going to have to do it again in the Test series because they're very dangerous players, these New Zealanders, and if we're off our game they're going to punish us.
"There's absolutely no complacency (for the Tests). You know how hard Andy Flower works. He'll be desperate to get his teeth back into coaching us - I'm not sure what he's been doing for the last month or so!"
Finn added: "We felt we didn't quite get it right in the first game - maybe we were a little bit rusty but playing these last few games we felt really good
"We've set the tone early and the batsmen have been brilliant as well, so it's been great. It's great to be bowling at the other end to Jimmy (Anderson). He's one of the best, if not the best, fast bowlers in the world. To be able to bowl at the other end and to feed off him and learn off him is brilliant."