England captain Alastair Cook insists Kevin Pietersen will be fit for second Test
Alastair Cook admits there is a "bit of concern" over England's inability to hit the ground running in recent series'.
Last Updated: 10/03/13 4:03pm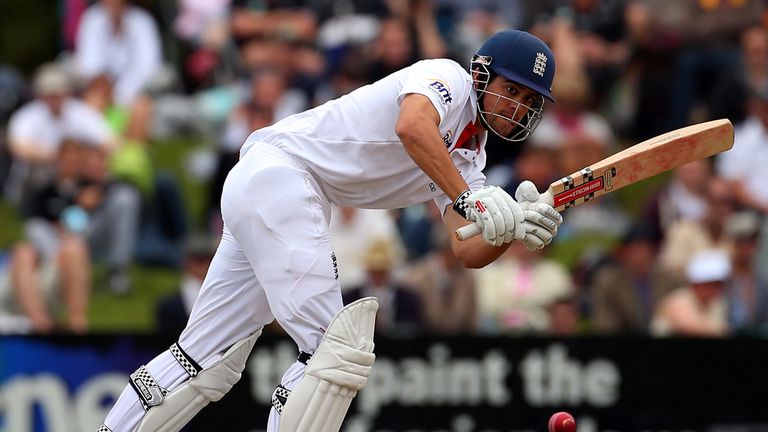 Steven Finn was the unlikely batting hero for the tourists on the final day in Dunedin, the nightwatchman surviving for just shy of five hours to make a maiden half-century.
His efforts, along with a fluent 52 from Jonathan Trott, saw England reach 421-6 by the time the two sides shook hands with around an hour of play remaining.
"I think the last two days we showed some good fighting spirit," Cook said in the post-match interview.
"That's twice we've had to bat out to save the game, in Nagpur and now here where we've had to bat 160-odd overs. It was quite a flat wicket but that's still a long time to bat.
"I think the way we went about the last two days we can take a lot from."
However, the opener - who himself played his part in the rearguard action with a knock of 116, was at a loss to explain just why England seemed to be slow starters of late; they were bowled out for just 167 in their first innings.
"I'm not sure quite sure we know the reason for it," the Essex batsman said.
"It's certainly frustrating. You can talk about doing the right things and you know it's important to get off to a good start, especially in a three-Test match series.
"It's a bit of a concern and something we need to address. You give any side a start like the one we did to New Zealand in this game and you will do well to claw it back. It's great to be going to Wellington at 0-0, but in the bigger picture we need to start better than that."
Pietersen fitness
Cook was quick to dismiss concerns about the fitness of Kevin Pietersen, who seemed to be troubled by a right knee injury whilst making just 12 in England's second innings.
"It's obviously a little bit of a worry," the England skipper admitted. "But he's fully fit to play and I don't think it's too much of an issue. He should be fine for Wellington."
Nick Compton, however, was amongst the runs, hitting his maiden Test ton during a first-wicket partnership of 231 alongside fellow centurion Cook.
"It's great for 'Compo' to get his first hundred. As a batsman you want to contribute and get that first hundred, almost get that monkey off your back," Cook said of his opening partner.
"I thought the way he played, we always knew that when he gets in he was very hard to get out and he showed that yesterday."