Nick Compton: Place in team for Ashes still not guaranteed
Nick Compton does not believe he has cemented his place in the England team for the Ashes despite his two centuries.
Last Updated: 19/03/13 5:55pm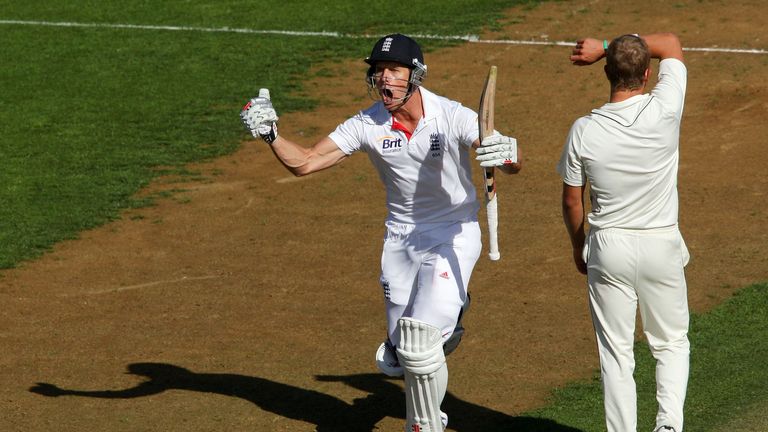 Before the New Zealand series began many pundits were calling for Joe Root to open but Compton has responded in impressive fashion.
Centuries in Dunedin and Wellington have eased the pressure considerably but Compton is not taking his form, or his selection, for granted, though he admits he is already dreaming of an Ashes summer.
"I've played enough cricket now where that line between success and failure is quite thin. The more you play the more respect you have for the game. Things can change very quickly," he said.
"You go to bed at night thinking about the Ashes. You get that youthful exuberance which is natural. I'd be lying if I said I didn't want to play in an Ashes series. Of course I do.
"But looking too far ahead and what have you, it doesn't do you any good. You have to make sure you stick to the next game."
"I'm very proud (of my centuries). It's been disappointing that two Test matches have been played, and we haven't got a result yet.
"(But) if you'd asked me two weeks ago if I'd take back-to-back Test hundreds, I think I would have bitten your arm off. It is a great feeling."
Having won the Twenty20 and one-day international series, England want to seal the treble at Eden Park after draws in the opening two matches.
High
At the suggestion a 'cup final' is in the offing in the third and final Test in Auckland, Compton said: "That's one way of looking at it.
"I think it's been a good winter for English cricket for all the teams really - and it would be nice to finish on a high, to leave the country having won the last Test and the series."
To do so, England may well need better weather than they have encountered so far in Dunedin and Wellington, with a day's cricket lost in both matches.
"There's no doubt about that," Compton added.
"We'd love to clinch it - and we hope we can have five days' cricket rather than four, and we might have a chance."