England captain Alastair Cook hoping for result pitch at Eden Park
England captain Alastair Cook is hoping for a result wicket in the third and final Test with New Zealand in Auckland.
Last Updated: 20/03/13 10:14am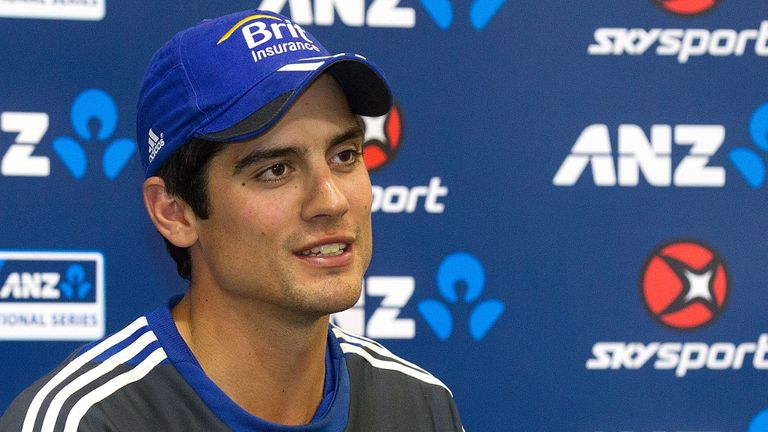 A drop-in pitch will be used for the crunch match at Eden Park where there have been positive results in the last six Tests.
The wickets used in the rain-affected draws in Dunedin and Wellington were hard work for all the bowlers, offering little assistance to the quicks in particular.
England have politely refused to criticise the pitches but there is no doubt that they want a more sporty wicket for the decider.
"In an ideal world a pitch with more pace and bounce would make for a more exciting wicket," Cook said.
"But whichever pitch we get in Auckland we'll try to find the best way to win the game."
The pitch was dropped in on Saturday night and groundsman Mark Perham said: "We want the best cricket wicket possible really. It will offer a bit first up and then settle down for the batsmen to do their thing."
Steam in
England fast bowler James Anderson, who has taken just seven wickets so far, said: "Test pitches around the world are generally quite flat. You've got to work hard for your victories. It's no different out here.
"I think if we hadn't had rain in the first two Tests there would probably have been a result. So you can't say they aren't result pitches.
"You have to find different ways of getting people out. You can't always just steam in and try and roll sides over. You've got to use other skills, and that's what we've been trying to do this trip."
Brendon McCullum wants his New Zealand team to go for broke. A third stalemate in Auckland and a drawn series would - on paper - represent a fine result for the Black Caps against a team ranked No 2 in the world.
But McCullum dismissed suggestions that the hosts would play for a draw and insists he wants his team to go for a famous victory.
"We go into every game trying to win. Certainly, for us, it's not about trying to hang on for a draw," he said.
"We see this as a great opportunity to clinch a series win against England and that's something that we'd all hold very fondly."