Steve Finn: England expected more help from Eden Park pitch
Steve Finn admitted the Auckland pitch did not help the England bowlers as much as they had expected.
Last Updated: 22/03/13 9:20pm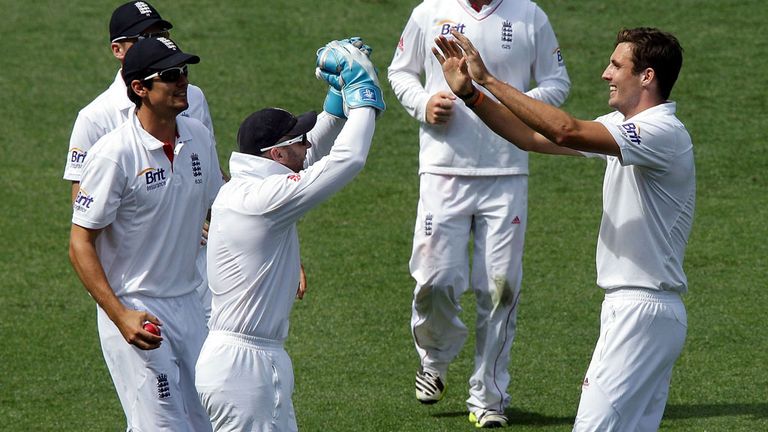 Skipper Alastair Cook won the toss and put the Kiwis in in the expectation that the drop-in pitch at Eden Park would give the quicks early assistance - and home captain Brendon McCullum admitted he would have done the same.
But Peter Fulton batted all day to scored 124 not out and Kane Williamson added an unbeaten 83 to put New Zealand firmly in the driving seat.
England's only success on the placid pitch came when Hamish Rutherford (37) wafted at a wide delivery from Finn and nicked the ball to Cook at first slip shortly before lunch.
England were culpable for bowling a little too straight, and Fulton exploited that to the fullest, whipping the ball through the leg side for 98 of his runs.
"I don't think it's a disastrous day of Test cricket for us," Finn said. "If this was easy cricket, it would be called 'Easy' cricket. It's Test, and you know it's a test.
"Looking at the wicket this morning it looked like there was a bit in it for the bowler.
"There was plenty of green grass on it but that just seemed to be holding the wicket together rather than offering us assistance. We did expect it to do more than it did but after realising that we stuck to our plans well.
"We only took one wicket, yes, but to keep them under three an over and not be too far out of sights is good.
"We're only one day into a five-day game, and we've gone at less than three-an-over.
"We'd have liked to take more wickets, obviously, after winning the toss. But the fact they are only 250 on a wicket that didn't offer us too much, or much at all, was a good effort.
"Sometimes you can search for the wickets too much and look too far ahead. We went past the edge a fair amount today and were a little bit unlucky."