Mike Hesson: New Zealand series more than an Ashes appetiser
New Zealand coach Mike Hesson insists their two-Test series with England is much more important than an Ashes appetiser.
Last Updated: 05/05/13 12:44pm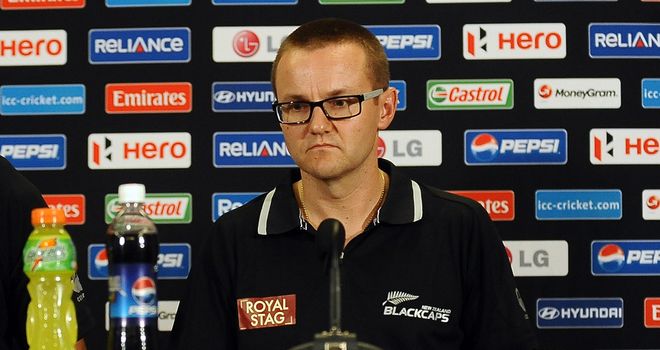 The Black Caps have arrived in England and will face Derbyshire in a warm-up match on Saturday without their two leading batsmen, Ross Taylor and skipper Brendon McCullum.
They are on IPL duty but will arrive in time for the final warm-up contest against the England Lions next week, with the Test opener starting at Lord's on May 16.
Hesson is determined not to let his side become the "entree" to the arrival of their fellow Antipodeans.
"These are two hugely important Test matches for us," Hesson said. "We're making progress as a Test side and certainly won't like to be the entree for the main course later in the season.
"England's record in England in recent times has been outstanding. It's a tough place to tour and we know that we've got to be on the top of our game."
England will not be underestimating the Kiwis after the hard-fought drawn series in New Zealand earlier this year.
New Zeland fell agonisingly one-wicket short of victory with centurion Matt Prior and last-man Monty Panesar keeping out the last 19 balls.
Pinnacle
"I've tried to forget about that game," Hesson said. "We felt we dominated the Test but what a great game it was. These two Tests are going to be tough but we have got to stick to what we do well and what we did well in March in New Zealand.
"Playing in England is the pinnacle and the guys are very excited."
On the late arrival of McCullum and Taylor he said: "I'm actually quite happy with it because with a squad of 15 it's quite hard to get everyone a game.
"Those guys, although they haven't been playing a lot, they have been training a lot. To get our whole squad involved in those two warm-up games is critical for us.
"In previous tours we haven't even had any warm-up matches so two is huge. There will be no complaints from us about being underdone."
"They're one of the best bowling attacks in the world, especially in these conditions. Our team culture is really strong at the moment and we're an improving side."