All seams well
James Anderson enters England's series against New Zealand on the brink of joining the exclusive group of bowlers with 300 Test wickets
Last Updated: 10/05/13 7:41am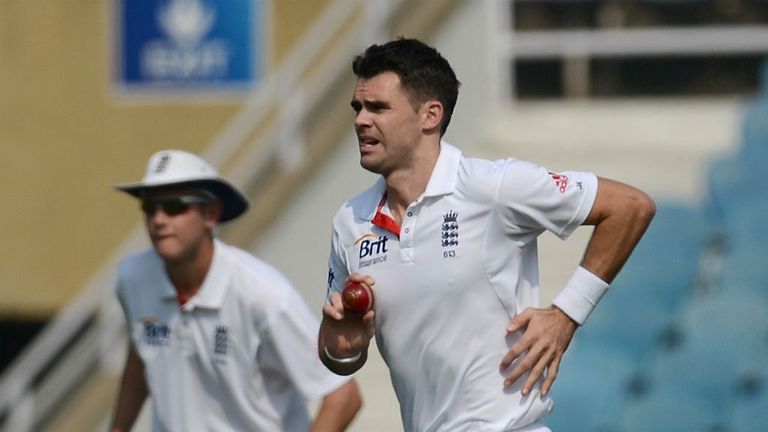 Anderson's accustomed body language, largely lugubrious sprinkled with occasional tantrum, often lends itself to the image of a cricketer with many troubles and little to celebrate.
But at Lord's in May, at some point in the five days of the first Test against New Zealand, the 30-year-old fast bowler will almost certainly have to break out of his mournful comfort zone.
It will be his own fault too, of course, because two more Test wickets will turn 298 into 300 and make Anderson only the fourth Englishman to reach that career triple-century.
It is a figure with less worldwide resonance these days, almost half a century on since Yorkshire and England's Fred Trueman became the first to break a barrier hailed at the time as cricket's version of the moon-landing.
Anderson will follow only illustrious compatriots Trueman, Bob Willis and Ian Botham to 300; yet he is 26th in the all-time list of leading Test wicket-takers - a mere 500 behind Muttiah Muralitharan.
Even so, when he levels the score for Red Rose against White as he so surely must at the start of this Ashes summer, the plaudits will be many and deserved for a highly significant level of achievement - and still power to add in the later years of a career which, more than many, has had its ups and downs.
Anderson's many phases - brilliant newcomer, spare-part extra seamer, injuries, redemption, master of his art - are well known to most.
But even for him, such is the importance of the next eight months with England that they remain potentially career-defining.
Alastair Cook's squads are adamant to a man that neither back-to-back Ashes nor Champions Trophy will clutter their minds before they have proved one important point first - that they are better than New Zealand.
It will doubtless help Anderson too if he can knock off those first two wickets quickly.
England will need them, and a few more, if - as seems highly likely - at some point seam-and-swing conditions prevail at Lord's and then Headingley.
According to Anderson, in public at least, the most effective motivation will not be his own career statistics but helping England consign to the past their struggle to a 0-0 stalemate after three Tests in New Zealand in March.
"We were probably fortunate to get away with a draw, and we were disappointed with the way we played," he said.
"We want to improve - it's crucial that we start better. We need to start what is a big year well."
Elite
No 'rocket-surgery' there then, but Anderson does at least voice a simple and accurate summary of where England stand after their mixed-bag winter of historic success in India and then pride marginally salvaged only in the last-ditch defiance of Auckland. Likewise, he is succinct about that third century.
"As for the 300 Test wicket mark, I can't wait to get there - because it will mean people stop talking about it," he said. "It's a big milestone, but stuff like that is for the end of your career to look back on and brag about."
Before then, hope springs eternal at the start of a new season for a bowler with plenty of miles on the clock but a youthful enthusiasm which belies his outward demeanour.
"Even though we play all year round, there is something about the start of the English summer that is very exciting," he said. "I feel the same as I did when I was 20.
"I maybe feel better than I have, well, ever. It still hurts at times. You get niggles, but you learn to cope with it a bit better."
For that, Anderson is prepared to credit the pragmatic 'rotation' policies Test coach Andy Flower and his management staff employ to try to keep England's most prized resources in best working order for the most important assignments.
It is a topic which has vexed Anderson in the past - most notably when he was rested against West Indies at Edgbaston last year.
His acknowledgement of a necessary evil is becoming noticeably less grudging, though.
"I get managed really well - we all do since this rotation thing started," he said.
"Obviously it helps having the depth in the squad to be able to do it, but it's going to be crucial and it's going to prolong players' careers.
"It's trying to get your best players fit for the big series. They really do take care of us."
Anderson has spent plenty of time already returning the favour, but knows much of England still expects and is banking on another hundred or so wickets before he is done.