In-form Graham Napier has never given up on his England dream
In-form Essex all-rounder Graham Napier has told Sky Sports he's not given up on his dream of playing for England.
Last Updated: 04/06/13 12:06pm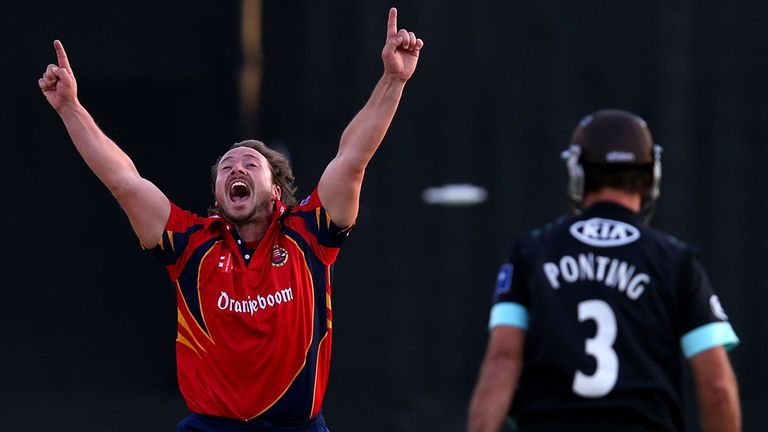 The 33-year-old recorded sensational figures of 7-32 to help the Eagles to a resounding 178-run victory over Surrey in the Yorkshire Bank 40 at Chelmsford on Monday evening.
Napier removed Azhar Mahmood (36), Zander de Bruyn (0), Tom Newell (0) and Jon Lewis (0) in successive balls in an incredible 25th over of the reply.
He had earlier clean bowled Jason Roy (2) and Ricky Ponting (2) in his opening spell, and then struck again with the wicket of Stuart Meaker to register the second best-ever List A bowling figures for any Essex player.
Napier was part of England's squad for the 2009 ICC World Twenty20 but did not make an appearance; he admits he would love to play for the national team even if his age may now count against him.
He said: "There's not many 33-year-olds who have made their debut for England but I've never given up the hope of playing and wearing the Lions on my shirt.
"It's something I've always wanted to do and been close but never got there. As I say, I'm never going to give up on that dream."
Delighted
Napier was understandably delighted to have taken four wickets in four balls.
"I'm still buzzing from last night, it was just a fantastic evening of cricket in Chelmsford," he said.
"Surrey took the powerplay and I knew with Azhar Mahmood at the crease, he'd be trying to hit the ball as far as he could.
"The plan from the skipper James Foster was to bowl full and straight. The ball was starting to reverse swing and I picked up a wicket in the second ball of the over, and just carried on bowling those deliveries.
"I can remember saying to the umpire (after taking his hat-trick) there's only one area this one's going, full and straight, and keep your eyes open for the LBW."
Regarding taking the wicket of Ponting earlier, he added: "I think I've dreamt of most of my career just getting the chance to bowl at Ricky Ponting and having seen England bowl at him in various Ashes series and their plans I thought 'well, stick to what they've done, it seems to have worked' and it worked for me.
"He just said 'well played and well bowled' at the end of the night but I think he didn't look too pleased to have his middle stump removed!"