Australian skipper Michael Clarke rejects David Warner cover-up
Australian Michael Clarke has rubbished claims Shane Watson contacted coach Mickey Arthur about the David Warner affair.
Last Updated: 15/06/13 9:15pm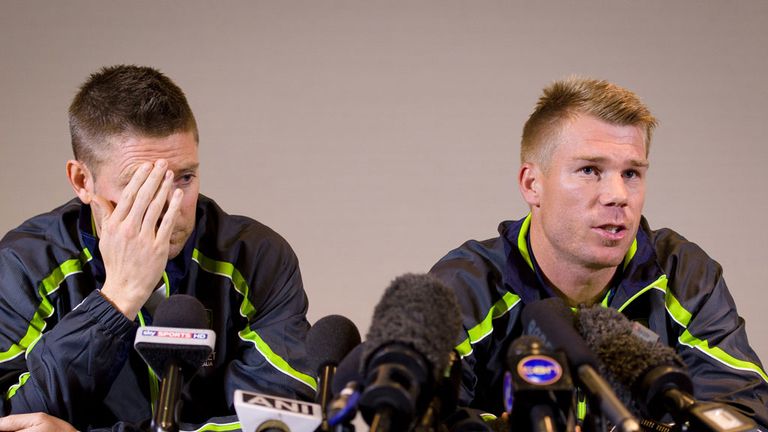 Channel Nine have suggested officials tried to cover up Warner's pub fight with England's Joe Root in a Birmingham bar early on Sunday morning after the two teams played each other in the Champions Trophy.
It has been reported that former vice-captain Watson, one of four players dropped for a Test against India in March after failing to respond to Arthur's demands for ideas on improving the team, accused the South African of double standards.
Warner is banned until the first Ashes Test on July 10 and fined £7,000 and when asked if Watson's approach had sparked the probe into the opener's conduct, Clarke said: "He certainly didn't.
"It's irrelevant I guess firstly how the leadership group found out about the incident. And, no, Shane certainly didn't take up with Mickey that he had a problem with how we as a leadership group dealt with it. That allegation is completely false."
Seriousness
Clarke stated that Watson and the Australia squad were unhappy over Warner's actions, which Cricket Australia chief executive James Sutherland described as 'despicable' on Friday.
"I think all the players are disappointed with David's behaviour," Clarke added. "Everybody acknowledges he's let the team down - there's no doubt about it. I don't think Shane's in a different situation to any of the other players."
The skipper, who is battling a back injury, said the seriousness of the incident in the Walkabout bar had not been underestimated and accepted that the manner of the team's behaviour after losing such an important match was inappropriate.
"I think what James (Sutherland) has certainly said, and I will echo, after losing a game like we did against England, to be out at that hour celebrating or carrying on like we were celebrating, especially with the opposition, is probably not the right time or place to be having a few drinks," he stated.
"Every player is aware of that. I think everything in moderation. A big part of why you loving playing cricket for Australia is because you celebrate your success, you work hard together as a team.
"But when you do well you do celebrate together, but you need to have a reason to celebrate and right now we certainly haven't got that."