James Tredwell: England have as good a chance as anyone in the Champions Trophy
James Tredwell says England fancy their chances of claiming a first global tournament success in the Champions Trophy.
Last Updated: 17/06/13 4:50pm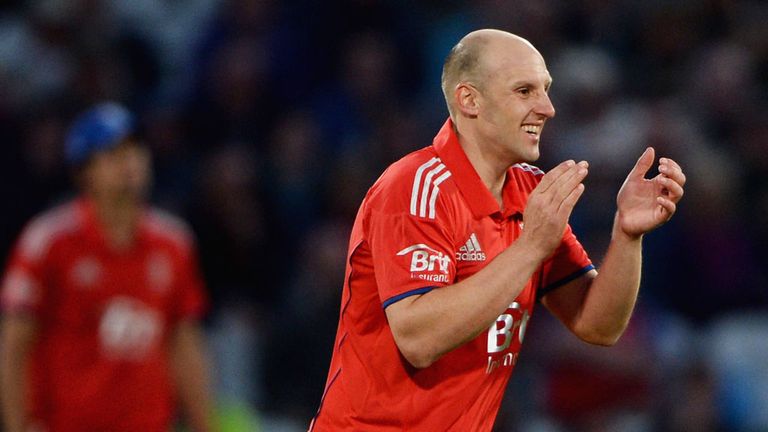 The hosts survived a tense 24-overs-per-side clash with New Zealand on Sunday, winning by 10 runs to secure a place in the semi-finals.
And Tredwell, who once again filled in very capably for the injured Graeme Swann during that Cardiff win, says the team are now planning to end their long wait for success in an International Cricket Council one-day international event.
"All the teams in this tournament are good and to beat New Zealand, who are a very tough side, was a very good result," said the Kent off-spinner.
"We have as a good chance now (of winning this tournament) as any team in the next stage.
"We don't want to look too far ahead, to lifting that trophy, we hope. But, equally, it's something that's in the back of your mind.
"The semi-final is going to be tough but we're two games away now from winning a major tournament, which would be an absolutely massive thing.
"That's how we're looking at it. As a group of players, that's a place we want to get to.
"But, first and foremost, we have a big game coming up."
Opportunity
Swann has been struggling with a stiff back and now a sore calf, meaning Tredwell may continue to feature in his stead.
And the 31-year-old said: "I'm in the squad and I'm getting a game here and there.
"I don't think I've let anyone down in the games I've played, so I hope that can continue.
"Swanny's been brilliant for a period of time and, if he's fit, I'm sure he'll come into the reckoning, as they say.
"But the last six to eight months have been really good to me. I've got a few games under my belt and shown what I can do.
"When every game comes around now, I'm chomping at the bit to get on the park."