Ashes: Andy Flower backing 'superstar' Kevin Pietersen to deliver this summer
Andy Flower has backed "superstar" Kevin Pietersen to make his mark on the forthcoming Ashes series.
Last Updated: 01/07/13 11:34am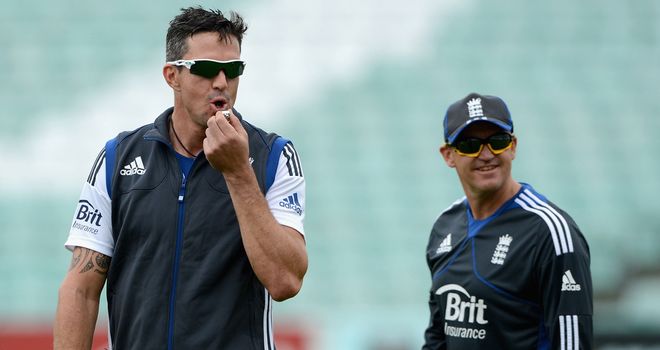 Pietersen was restored to the England side on Sunday for a warm-up game against Essex which is the last before the first Test at Trent Bridge.
The 33-year-old was forced home from New Zealand early in March because of a knee injury, but a County Championship century for Surrey last week confirmed his return to fitness.
And England coach Flower said: "I am very happy he is back.
"It was great to see him get that score at Leeds. But it was also great to see how he was in the nets with us prior to that. He looked very confident and was moving well.
"He is very important to our side. He is a superstar with the bat who can dominate and intimidate opposition.
"He is a big physical presence and a big personality, and those people influence sporting contests."
Pietersen will slot into the middle order of a batting line-up likely to be headed by Alastair Cook and Joe Root in Nottingham on July 10.
Root has risen above Nick Compton in the hierarchy, but Flower said: "I would not write off Compton's chances of taking part in the Ashes.
"A lot can happen. His only option at the moment is to score as many runs as he can so that he is viewed as being in excellent form if we wanted to call on another batsman."
Asked why he was dropped, Flower said: "Because in our judgement Joe Root will score more runs than anyone else competing for the opening spot.
"He's an opening batsman and we believe he has the game and the mental make-up to be successful in that role."