Tim Bresnan was not too worried about Graeme Swann's blow on the arm
Tim Bresnan says he was only momentarily concerned about the injury suffered by his England team mate Graeme Swann.
Last Updated: 02/07/13 10:45pm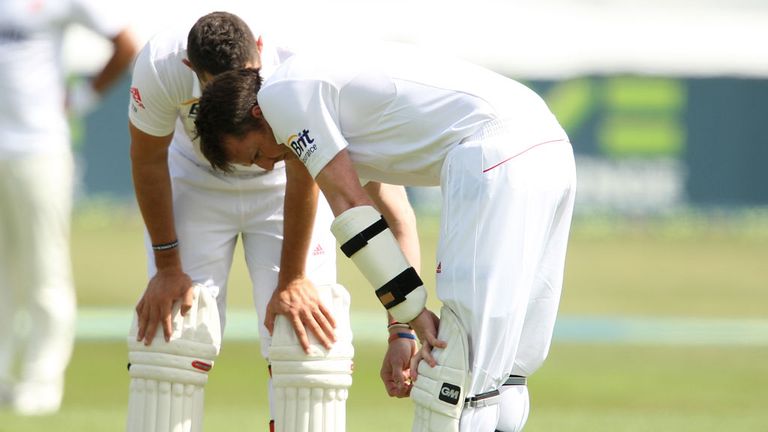 Swann was hit on the forearm by Tymal Mills during the Ashes warm-up match against Essex but he was able to bat on and reach 94 before he went to hospital for an X-ray following his dismissal.
To England's relief he was cleared of any break and Bresnan said he had been fairly confident the spinner was not badly injured.
"For a split second I was worried and then I could see he could grip the bat," said Bresnan.
"If he's got his grip and can move his wrist, it's generally not broken. It's just going to be quite sore but he'll be all right.
"Injury is part of the game but, obviously, you don't want to be doing it in these sort of matches, when trying to prepare for a big series coming up.
"We're happy that he's all right."
Bresnan added 187 for the eighth wicket with Swann and finished on 105 not out himself, although Mills gave him some problems as well, for which Bresnan blamed the lack of pace in the pitch.
"It was weird," he said. "It was kind of sticky and just got stuck in the wicket.
"It's difficult when the ball gets a bit softer and doesn't quite get up. You can't really get underneath it, and I think we found that awkward.
"Then we just decided to have a flap at it after that."
Mills said he spoke to Swann after hitting him on the arm to make sure he was OK.
"Those two had put on a good partnership, and Ravi (Bopara, Essex captain) said 'it's time to let them have a few'," the bowler explained.
"So the bowlers' union went out of the window a little bit there. You've got to do what you've got to do to try to get some wickets. You can only be friendly for so long.
"When I got off the field, I've spoken to him, and he's all right. There's no hard feelings."
"We just laughed and joked really. It was just bruising."