The Ashes: Stuart Broad is not bothered about Australia's change of coaches
Stuart Broad says the recent upheaval within the Australia camp has not been closely monitored by the England side.
Last Updated: 05/07/13 10:23am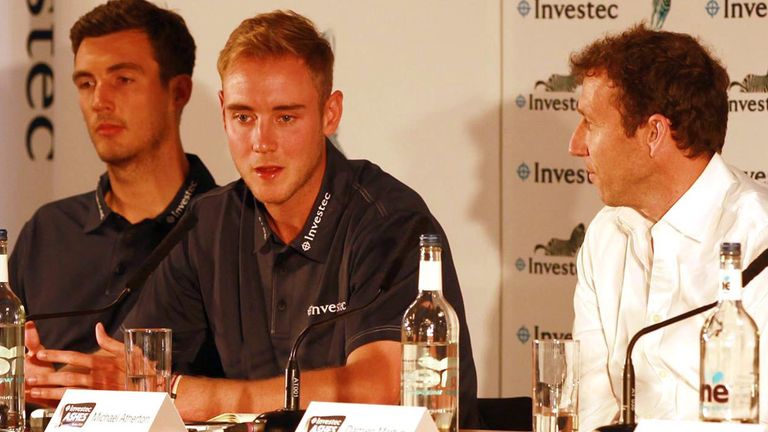 The Aussie tourists are underdogs for the upcoming Ashes series and caused a stir when, just 16 days ahead of the first Test, which starts next Wednesday, they fired coach Mickey Arthur and brought in Darren Lehmann.
But Broad, who is fit to be a part of the attack at Trent Bridge next week, says such manoeuvring will have no impact on England's preparations.
"It is completely irrelevant to us as a team," said Broad.
"That sounds strange, as we are playing against the Australians but, as a team policy for us, we just concentrate on our strengths.
"In a meeting we will talk about what we do well, what we want to get out of the game, and what stamp of authority we want to place on the game, whoever we are playing against. We are very focused on that.
"We know Australia are a dangerous team and we will do our tactical research on them but what happens for them in terms of hierarchy and stuff we just don't care about.
"For us it is just getting ourselves ready for 11 o'clock on Wednesday morning."
Broad: Depth is important
Steven Finn and Tim Bresnan appear to be vying for the third seamer's spot in the starting XI and Broad thinks the keen competition for places is a plus.
"You need depth, definitely," he said.
"It is unrealistic to think a three-bowler seam attack will get through all of the Tests. You need that depth and we are very fortunate, particularly in the bowling department, where we have players who are fighting for spots who have got proven Test records.
"That firstly keeps the bowlers who are in the side on their toes and also pushes them to develop themselves. It also means if there is loss of form or injury that you have high quality coming in as replacements.
"It is a really good place to be as a team and we are fortunate that we play in an era where we have that strength in depth and it can only help us."