Third Ashes Test: Kevin Pietersen bullish after century on day three at Old Trafford
Kevin Pietersen was bullish about England's chances after his century on day three of the third Test.
Last Updated: 05/08/13 5:20pm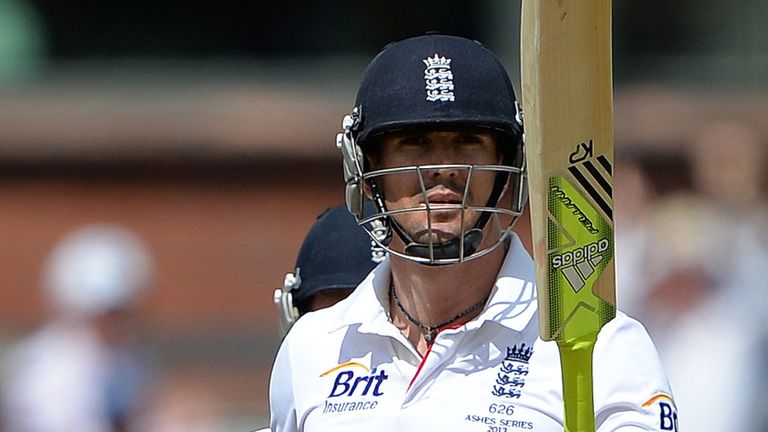 The 33-year-old batsman was back to his best as he struck 113 off 206 balls - pulling many short balls from Mitchell Starc to the boundary and consistently coming down the pitch to spinner Nathan Lyons.
With the hosts still 34 runs short of avoiding the follow-on, Pietersen highlighted the trueness of the Lancashire pitch and stated his faith in the England tail.
He said: "I think that the key to it is to put overs into their bowlers. That's what we set out to do today - to get through the day - and we've achieved that. I know we're still in a spot of bother but if we can avoid the follow-on then anything can happen in this fixture still."
On his tactics against the Australian attack, he said: "You've got to assess the wicket and the situation. You can't decide what kind of shot you're going to play before you go out and bat.
"I thought that the pull shot was definitely on. It's not the quickest of wickets but it's true - truer than Lord's and Trent Bridge. It was nice to bat on.
"I don't have a cut shot. I'm not Ian Bell. The pull shot is just something that's ingrained in me. If you can't cut then you've got to pull.
Attack
"I attack the spinners all the time. I don't like to let them settle and I also like to get myself going. As soon as I get my feet going, that's the key to playing in a positive manner and playing well. I assert myself on spin bowling. It's certainly still a good enough wicket to bat on and score runs.
"I know I've got another knock in a couple of days' time, we play so much cricket. I train as hard as I can and all the lads train as hard as they can. They've realised that when it doesn't go your way you have to go in there and support your boys."
When asked to describe the feeling of scoring Test centuries, Pietersen added: "It's probably one of the best feelings you can have as a cricketer. Maybe if I took five wickets I'd be a bit more happy. It's a nice feeling but it's only better if it contributes to something for this team. Personal achievements are one thing but this is a team game.
"The runs are runs. Today's gone. We want Matty (Prior), Broady (Stuart Broad), Swanny (Graeme Swann) and Jimmy (Anderson) to dig in and I think we can do that."