Fifth Ashes Test: Graham Gooch defends England tactics at the Kia Oval
Graham Gooch has defended England's defensive approach on the third day of the fifth Ashes Test at the Oval.
Last Updated: 25/08/13 7:39am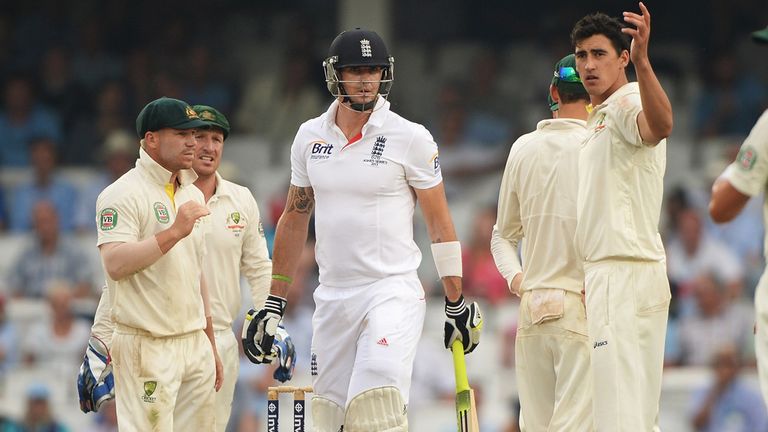 The England top six batted through a turgid Friday, closing on 247-4 in their first innings. Rain wiped out the fourth day on Saturday and with the weather likely to be mixed on Sunday, a draw now seems inevitable as the series draws to an anti-climactic close.
Kevin Pietersen took 133 balls over his painstaking 50, Jonathan Trott 134 over his 40 and Ian Bell's 29no took 110 balls.
The batsmen came in for criticism for their go-slow approach, but batting coach Gooch said the conditions were not easy and said that with England 3-0 up, their tactics throughout the series have been justified.
"You go out there and do the best you can every day and, at the end of the series, if you are in front then you have played some decent cricket obviously," he said.
"The game doesn't always go the way you would like it to when you're sat down in your team meetings and you plan out what you want to do.
Pressure
"The Australian fast bowlers have bowled exceptionally in the last two or three Tests and have really put our top order under pressure so credit to them. You can't play the ideal game every day. We are the ones with three Test wins and they are the ones with nil Test wins."
Gooch admitted that England will be looking to improve in all areas heading in to the Ashes series Down Under.
"Our guys need to assess their game at the end of the series and I think one thing for definite is that we will be working very, very hard to make sure we improve when we go down to Australia - we need to improve," he added.
"My philosophy on cricket is that you try to build a good side to take on any one in any conditions - that is the beauty of the game and the beauty of Test cricket, having a side that can win in any conditions - whatever pitches Australia produce we will be ready for that.
"We know that to beat Australia in their own back yard we are going to have to be a lot better both with the bat and the ball."