England v Australia, 4th ODI: Jos Buttler felt outcome was always in England's hands
Match-winner Jos Buttler always felt he had the outcome of the one-day international with Australia under control.
Last Updated: 15/09/13 7:30am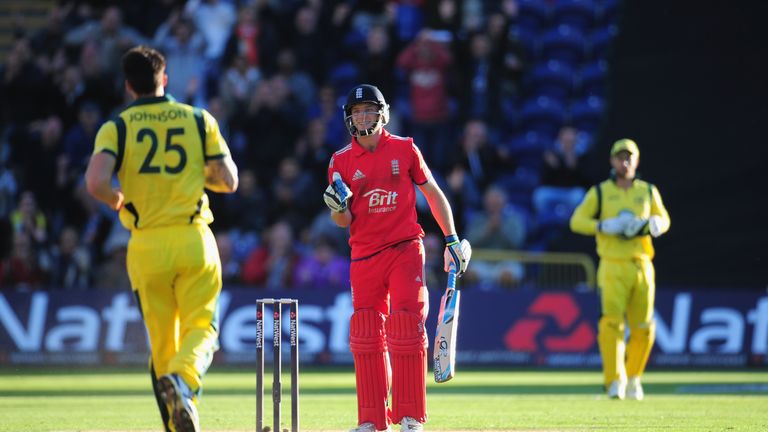 The 23-year-old wicketkeeper-batsman has shown glimpses before his unbeaten 65 in the three-wicket victory against Australia that he is going to win many more matches for his country.
After his maiden half-century in a losing cause at Emirates Old Trafford last weekend, he went one better in Cardiff - principally in a seventh-wicket stand of 75 with Ben Stokes - to complete England's recovery from Clint McKay's new-ball hat-trick.
Michael Carberry (63) and Eoin Morgan (53) first put the hosts back on course for a victory eventually achieved with three balls to spare, in pursuit of 227 all out.
Ashley Giles's men will therefore head to Southampton for the NatWest Series decider on Monday on a high.
"We were always confident," said Buttler, who was joined by Stokes on 144-6.
"The run-rate wasn't too out of hand, and I knew if I was there at the end we wouldn't be very far away."
There were some scrapes - including a DRS escape on eight when Buttler overturned an lbw decision against him, and then two close calls for run-outs later on.
Improved
"We could have improved on our calling," he added. "But I think we were quite calm. I've played quite a bit of cricket with Ben growing up, and that helps.
"I've played enough cricket now to know when it's getting out of hand. It's just pick your bowlers, pick your moments and hope it comes off in your favour."
If England had not kept a review in reserve, Buttler would have been out cheaply to Shane Watson, and he admits he is relieved to be repaying the faith shown in him by England selectors who recognised his potential so young.
Recalling the lbw decision, he said: "I wasn't sure ... It was obviously a big moment, and luckily the review system saved me.
"Up to this moment, I haven't quite performed as well as I would have liked. When you get the opportunity, it's important to try to take it. I hope that's what I've done - and I'll continue to do that."
Captain Morgan was delighted to see Carberry register his first significant innings, at his fourth attempt at the top of the order.
"Obviously, our backs were against the wall - and Michael and I just said pretty much we've got to bat time, and find a way to get through this tricky spell.
"It's hugely satisfying. The guys can take a lot of confidence from this game, particularly the young guys coming through."