Ashes: England spinner wants to face strongest Australia team
Graeme Swann says it'd be a huge blow if Michael Clarke was not fit enough to lead Australia in the first Ashes Test.
Last Updated: 04/10/13 1:11pm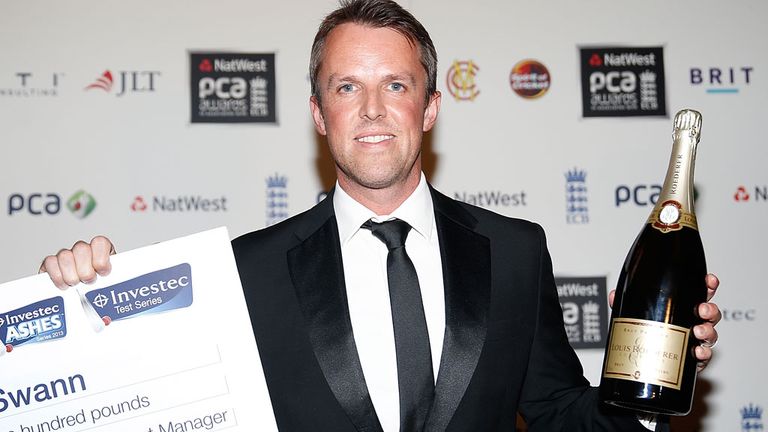 Clarke, 32, is already out of this month's tour of India because of his long-standing back injury and then revealed, though he himself was confident of being fit for the opener, the Australia medical staff were less certain on him returning to full fitness in time to feature at the Gabba.
Swann, fresh from helping England in retaining the Ashes and winning the YB40 title with his county Nottinghamshire, claimed the battle for the urn would be diminished if Clarke was missing from the fray.
"It'd be a shame for the Ashes if Michael Clarke doesn't play. He's a world class player for the Australians and a good leader," Swann told Sky Sports News.
"If he's not playing it'll be a fillip for us but a big blow for the Aussies and the Ashes on the whole I think."
The two teams were at loggerheads throughout England's 3-0 victory in the summer, with the incident involving Stuart Broad refusing to walk after being caught out in the slip cordon particularly galling the tourists.
Australia had run out of reviews in that first Test at Trent Bridge and their new coach Darren Lehman was particularly agrieved by Broad's actions following England's 14-run win in Nottingham.
Swann added: "It's a pretty hostile and hard atmosphere anyway and I'm not sure any of the nonsense that went on in the summer will have anything to do with it, it's water under the bridge.
"Let's face it it's not an issue. I'm sure the Australian crowd will be as passionate and vociferous as ever, and we just have to go out there and play good cricket and shut them up!"
You can watch the whole of the Ashes Series this winter on Sky Sports HD