Ashes: Michael Vaughan has fears over Jonny Bairstow keeping wicket
Michael Vaughan has expressed his concern over the prospect of Jonny Bairstow keeping wicket in the first Ashes Test.
Last Updated: 13/11/13 6:59am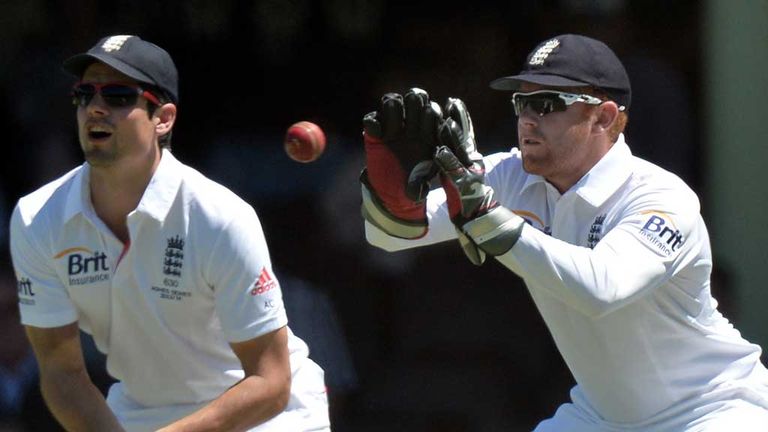 Bairstow is in line to replace Matt Prior, who suffered a calf injury in the warm-up match against Australia A and is a doubt for the series opener in Brisbane.
The young Yorkshireman is playing in the final warm-up against the Australian Invitational XI this week, but former England captain Vaughan believes he is not among the top five wicketkeepers in the country.
Vaughan said: "Jonny Bairstow will be fine batting at No 7 but I would worry immensely if he has to keep in a Test match.
"I wouldn't put him in the top five keepers in England."
Bairstow, 24, has played 12 Test matches for England as a specialist batsman and has kept wicket in just one Twenty20 international, and Vaughan fears he could miss vital chances that could affect the outcome at the Gabba.
Pressure
"I questioned it as soon as the squad was selected," Vaughan added. "I just don't think he's done enough of it to withstand the pressure of an Ashes series keeping wicket.
"Bairstow is a package that could work in 20-over and 50-over cricket, but in five-day cricket, yes you need someone who can bat, but also to take those important catches.
"He hasn't done enough for Yorkshire this summer because he has been playing for England.
"He may have to keep in the hottest of pressure zones, the Gabba, in front of 40,000 spectators. The selectors feel Bairstow is the next best, but I would question that."
Prior has played 57 consecutive Tests since making his debut in 2007, and Vaughan feels he is crucial to England's chances of retaining the Ashes this winter.
He added: "The injury to Matthew Prior is a massive, massive concern. He's been brilliant for England for three or four years and is the engine of the team.
"Prior is a confidence player, he really likes to be in the middle, scoring runs. He could go into that first Test without any cricket."
Stay up or catch up. Watch coverage of the 2013/14 Ashes ONLY on Sky Sports