Stuart Broad: England can turn Ashes campaign around after first Test defeat
Stuart Broad insists England can turn their Ashes campaign around following their first Test defeat at the Gabba
Last Updated: 28/11/13 5:12pm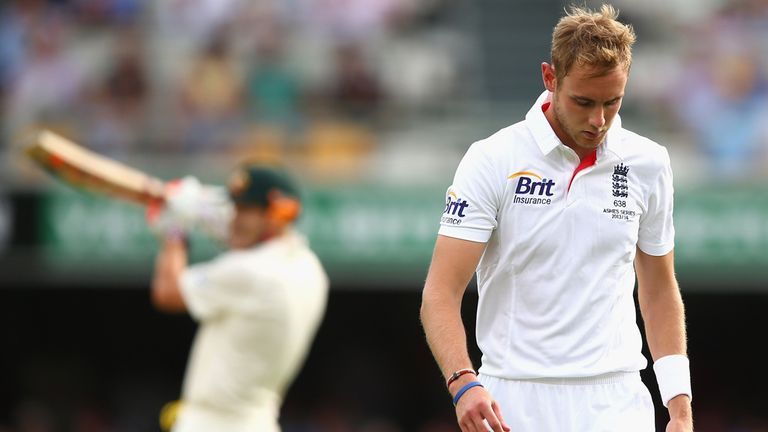 Broad, who has spoken of "heartbreak" after Trott left the tour early because of his stress-related illness, will be part of the England team that take on a Chairman's XI in Alice Springs on Friday ahead of next week's second Test.
Broad said: "I think this team is very good at focusing on the cricket when that time arises - and although the changing room's thoughts are with Trotty at the moment, we need to get back to training at Alice Springs this week.
"We've got a huge task on our hands. We had a blip last week, but I can't see this group of players allowing that to happen throughout the tour."
Broad admits England were below par in Brisbane where they lost by 381 runs and must improve in Adelaide.
"There will be some guys who know they didn't perform to the level expected of them in international cricket and will have to do better in Adelaide," added
Broad.
"We need to get our plans and skills right going to Adelaide. I think it will be very different to Brisbane in terms of the pitch, and we need to focus on getting right for it.
"This squad has a real steely determination, and the Gabba result hurt us. We're a proud bunch, and I'm sure that the performance levels will be back up to where they need to be come Adelaide."
Australian spinner Nathan Lyon also expects England to bounce back from their first Test mauling and warned that aggressive tactics will again be needed.
'Sledging' on the pitch was another of the Gabba controversies - Australia captain Michael Clarke was fined 20 per cent of his match fee for threats he made to James Anderson, picked up on the stump mic.
"It's England and it's a Test match, they're going to bounce back, we know that," Lyon said.
"Test match cricket is the hardest format going around. We're not expecting anyone to roll over. We know the quality of the England cricket side.
"We're going to have to stand up... and start that fight again. That's the way Australia play their best cricket. We know where the line is and we don't step over it. We're going to continue to play aggressive, hard cricket."
However, Broad does not expect the hosts to reference Trott's misfortune in future.
"As international cricketers and professional sportsmen, they will understand the pressures that everyone is under and (that) it can happen to anyone," he said.
"I think the Australian players will respect the decision of Trotty's to go home. There is no doubt there is a lot of respect between the two sides.
"I can't see any advantage Australia would gain from that."