Ashes Tour 2013/14: England captain Alastair Cook pays tribute to Graeme Swann
England captain Alastair Cook has paid tribute to Graeme Swann following the spinner's decision to retire from cricket.
Last Updated: 24/12/13 7:51am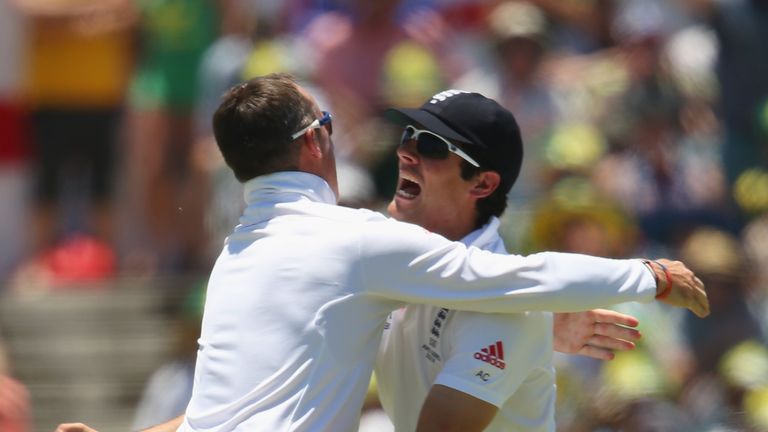 Cook has confirmed his personal and professional admiration for what Swann has achieved by taking an English off-spinner's all-time record 255 wickets in his 60 Tests.
"Graeme has had a fantastic career," Cook said. "He has been an integral part of our success, both on and off the field.
"He is going to be missed hugely. But he just knew this was the time.
"He'd given his all in the England shirt and can be very proud of his achievements.
"He can also take great credit for the way he managed to bring that more relaxed atmosphere to the team.
"I played a year or two before he came into the England team, but I noticed straightaway he made people enjoy playing cricket for England maybe more than when I first started."
The timing of Swann's retirement with the fourth Ashes Test starting on Boxing Day has divided opinion, but Cook said: "Obviously, it is a huge decision to make.
"Knowing you are never going to pull on an England shirt again must be quite a scary feeling - especially when you make that decision yourself.
Brave decision
"I think it is a very brave decision for him to do it now, in terms of what he is giving up and everything that goes with playing for England.
"But I think he knows deep down, after speaking to him, he had no more to give - and he didn't feel he could perform to the standards that he set for himself."
Cook admitted his initial surprise when he read Swann's remarks about players being "up their own backsides" but he has given his former team-mates an absolute assurance he was not talking about any of them.
"When we heard about it this morning, it was a surprise comment," said Cook.
"But Swanny has made it very clear to the lads he didn't mean any England player."
Watch the fourth Ashes Test live on Sky Sports 2HD from 10.30pm on Christmas Day