Pick of the day
We look back on day one of the fourth Ashes Test in Melbourne
By Mark Kendall - Twitter: @SkySportsMK
Last Updated: 26/12/13 11:23am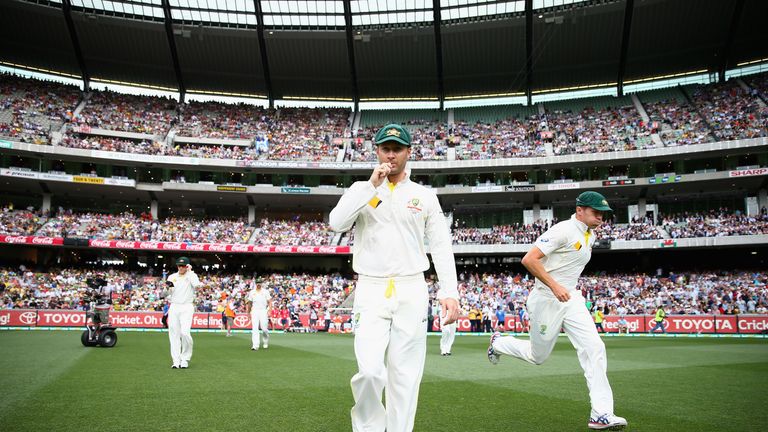 But Australia again struck the first blow as Michael Clarke won his fourth straight toss, although the home skipper did pull something of a surprise as he inserted England for the first time in the series.
It looked a questionable decision as England reached lunch with just one wicket down, but the Australian attack stepped up to the plate in the afternoon to change the momentum of the match.
After drying up England's runs, wickets began to tumble and Clarke and his men could rightly claim to have finished the day on top as England reached 226-6 by the close.
The shining light for the tourists proved to be our 'man of the day' Kevin Pietersen who ended unbeaten on 67 and England will be hoping their mercurial No. 4 can guide them up to and beyond a total of 300.
Click here to watch highlights of the day's play, here for our match report and here for a photo gallery.
Harris hails support
A Boxing Day Test at the MCG is always one of the highlights of the cricket calendar and there were certainly no shortage of takers this year. A world record crowd of 91,092 spectators crammed into the iconic Melbourne stadium with most providing raucous support for the home side. Ryan Harris certainly acknowledged they had played their part as England were reduced to 226-6 by stumps. While Mitchell Johnson may have made most of the bowling headlines for Australia, Harris has proved a superbly consistent foil for him and two more wickets on Thursday took his haul for the series to 14 (at an average of 22.5).
Frustration for England
It was the same old story for England on Thursday as a number of their batsmen got a decent start in Melbourne only to get out before making big runs. Ian Bell admitted afterwards there was a sense of frustration in the tourists' dressing room as they failed to capitalise on what proved a very decent pitch to bat on. However, Bell insisted there was still plenty of belief that Pietersen could see his side up to a more than respectable first innings total which would allow England to try and put the Australian batting line-up under pressure for perhaps the first time in the series.
Setting the record straight
The lead-up to the fourth Test was dominated by one man, following Graeme Swann's shock announcement to call time on his international career. Here, the 34-year-old off-spinner sits down with Sky Sports presenter Ian Ward to explain the reasoning behind his decision, the physical problems his ongoing elbow injury has caused him and to clear up the controversy caused by those comments about other players. As ever Swann pulls no punches and claims some sections of the media have come to entirely the wrong conclusion.
Another Idiot Abroad
David 'Bumble' Lloyd returns with his best Karl Pilkington impression and, after swimming with sharks earlier in the tour, this time tries his hand at football management... judging by his team-talk he's rather more Mike Bassett than Mourinho! Indeed, despite the fact his team were playing in the bright Aussie sunshine, Bumble still manages to end up as the 'wally with the brolly'. However, he must have done something right as he somehow ends up masterminding an improbable victory for England's media team!