Kate Cross optimistic England can beat Australia in Perth
England bowler Kate Cross is optimistic that the tourists can wrap up a victory over Australia in their Test in Perth.
Last Updated: 12/01/14 2:52pm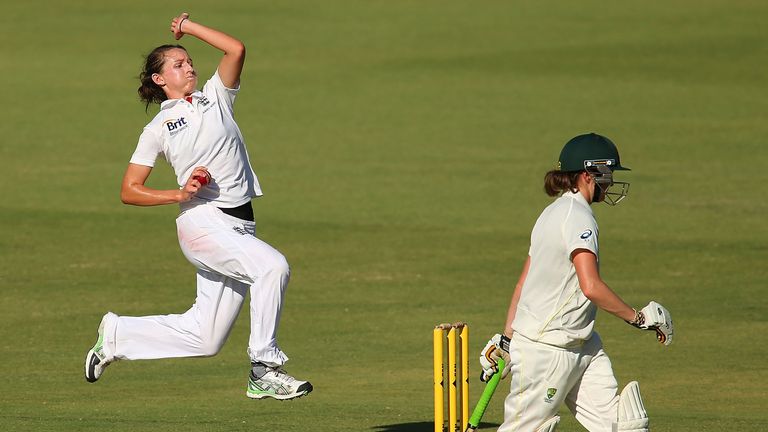 Australia closed the third day on 57-5 in their second innings as they chased a target of 195 after England were dismissed for 190 in their second innings.
Cross, who is making her Test debut in the only Test in the Ashes series, took 3-35 in the first innings and she followed that up with three quick wickets - her figures so far are 3-13 from nine overs - as Australia slumped from 28-0 to 57-5 at stumps.
Cross told Sky Sports: "We know that we have got a big day tomorrow but I think that we have taken a little bit of momentum getting those five wickets this afternoon.
"So we feel a little bit on top at the minute but it's a big day tomorrow so we are going to be pushing hard in the morning.
"I think you always surprise yourself when you manage to take wickets in your first Test match but we have just been training really hard for this and we have been practicing bowling in the right areas and those plans are obviously coming together now."
Recovery
Australia recovered from 37-5 to make 207 in their first innings with Ellyse Perry scoring 71.
Perry is still there in the second innings on one not out and Cross is hoping she will not prove so hard to dismiss this time around.
Cross added: "That's the thing with a Test match you know that someone down the line is going to dig in for Australia. So we know we have got to work hard and just keep putting the ball in the right areas and just not get bored. That's Test match cricket really.
"She (Perry) has been out there for pretty much all three days now and it has been pretty hot over here so I think we are starting to see her getting a little bit tired. Hopefully if we can take her out in the morning pretty early then we are going to feel on top.
"This is big match for us. This is a six-pointer in comparison to the two points for the one-dayers and Twenty20s so we are going to fight hard for this.
"If we can go 1-0 up in this then that is already a 6-0 lead for us and that's what we are aiming for. We are going to come out fighting tomorrow."