Luke Wright targeting England ODI spot
Luke Wright is hoping to nail down a place in England's 50-over team as well as the Twenty20 side this year.
Last Updated: 24/02/14 12:55pm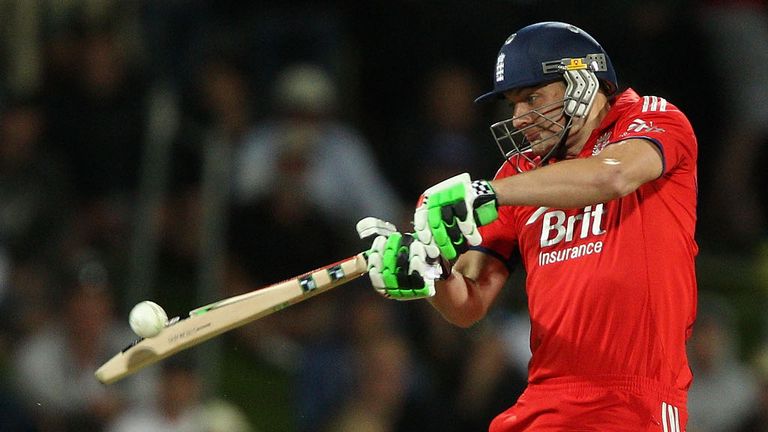 The Sussex all-rounder has been part of the T20 side for some time but he has been overlooked for the 50-over team.
Only two of his 48 ODI caps have come in the last three years but the axing of Kevin Pietersen opens up another place in the team.
Wright admits he was surprised by Pietersen's forced retirement. "We know how good KP has been over a long period for England," he said. "But it's time for us to move on and stake our own claim.
"There's places up for grabs. Obviously this trip is an opportunity for a lot of us to stake a claim. We weren't good enough in Australia in all the different forms. When I came in for the Twenty20 format, I didn't do well enough. So I need to step up."
Wright was a big hit in the Big Bash in Australia, one of the leading run-scorers, but he fluffed his lines in the three T20 internationals.
He joined up with the England squad in Antigua for three T20 internationals with the West Indies. Then the England T20 squad will play in the short-format World Cup in Bangladesh.
Wright wants to play a key role for England in the coming weeks and stake a claim for the 50-over side.
"I certainly want to get into the one-day side. I'm desperate to push for that, with a World Cup coming up next year for the 50-over format - and I want to be in that," he said.
"I've just got to score big runs, get the nod first... then that's all I can do. It doesn't mean you're guaranteed to get a place. It's going to be tough to break in, but you're only going to do that from performing well here in front of 'Gilo' (Ashley Giles). I hope I can do that."
No deal
Wright had mixed feelings at being part of the wipe-out for England players in this month's Indian Premier League auction.
"I was obviously disappointed," he said. "(But) it's sort of a 'win-win' really. I knew if I didn't get picked up, I'd go back to Sussex - and I love it there as well. So I couldn't really miss out.
"You naturally want to be involved in big tournaments. But there are a lot of big players going into that auction, and there were better players than me who missed out as well."
The overlap between IPL and the start of the English season is a snag the Indian franchises appear increasingly unwilling to overlook.
"I think it makes it hard," Wright added. "Obviously, we have to pay big compensation to our clubs so naturally we have to go in at higher base prices - which I know puts quite a lot of people off. So you are up against it.
"There are guys who are playing a lot of Twenty20 cricket for Australia going in at 50,000 US dollars - and obviously you can't compete with that. It's always going to be difficult, and I knew going into the auction there was every chance I wouldn't get picked up."
Watch England's first T20 international with the West Indies on Sky Sports 2 this Friday, with coverage from 1pm.