James Anderson calls for England players to take responsibility
James Anderson insists it is the responsibility of the players rather than a new coach to get England back on track.
Last Updated: 10/04/14 9:27pm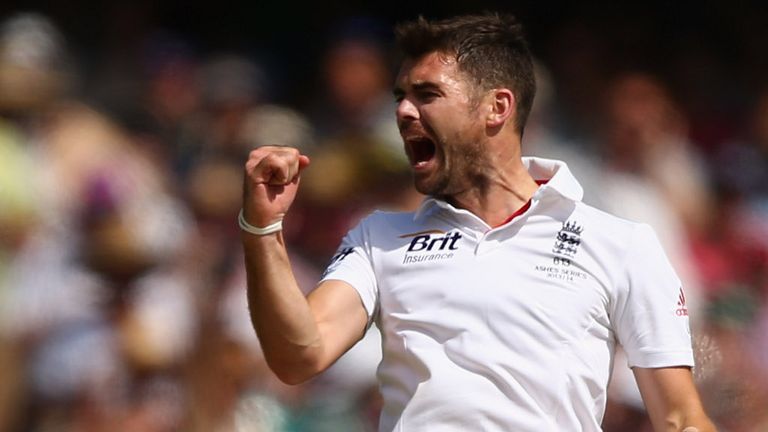 Andy Flower stepped down as team director following the 5-0 Ashes whitewash in Australia this winter and his replacement is due to be announced by the England and Wales Cricket Board next month.
Limited-overs boss Ashley Giles and Lancashire coach Peter Moores are two of the leading candidates, but Anderson believes the onus is on the players to find the necessary improvement.
"As important as a head coach is, I feel it's the players that have to try and turn things round," Anderson wrote on his personal blog, www.jamesanderson613.com.
"I honestly believe the group of players that are selected have to take responsibility to try and get the team out of the trough we find ourselves in.
"A successful team is not led by one man. The captain is also important, of course, but a successful team has a group of leaders within the team. We will need a nucleus of four or five leaders who can drive the team in the right direction."
Lancashire star Anderson has worked with both Giles and Moores and is confident either would be a suitable replacement for Flower.
Candidates
"Ashley Giles and Peter Moores have been named in the shortlist of candidates and, having worked under both, I think they are each well equipped for the job," he said.
"Peter Moores has played a big part in my career and I have always enjoyed his enthusiasm and skill for coaching. Likewise, I have enjoyed working with Ashley Giles, particularly during last year's Champions Trophy (when England reached the final)."
England's methodical approach has been criticised by Australia coach Darren Lehmann, but Anderson thinks the side should stick to a style that led them to the top of the rankings.
"The new coach will have an idea of how he wants the team to play, the captain will also have his view on the 'brand' of cricket he wants the team to play," Anderson added.
"I always thought that we played our best cricket when we are aggressive and calculated. Executing well-made plans, creating pressure by bowling accurately for long spells of time and laying a platform with the bat early so our aggressive players can make hay later in the innings.
"People always associate aggression with fast bowling or big hitting or sledging but you can be aggressive in many other ways.
"The best example I can use is when I'm bowling and the ball is swinging, I can be aggressive by bowling an attacking line and length. Swinging the ball away from the line of the stumps and bowling a fuller length is an aggressive way of trying to take wickets."