Cricket Expert & Columnist
Nasser Hussain unsurprised by Graham Gooch's departure from England set-up
Nasser Hussain believes there was an air of inevitability surrounding Graham Gooch's departure as batting coach.
Last Updated: 01/05/14 10:57pm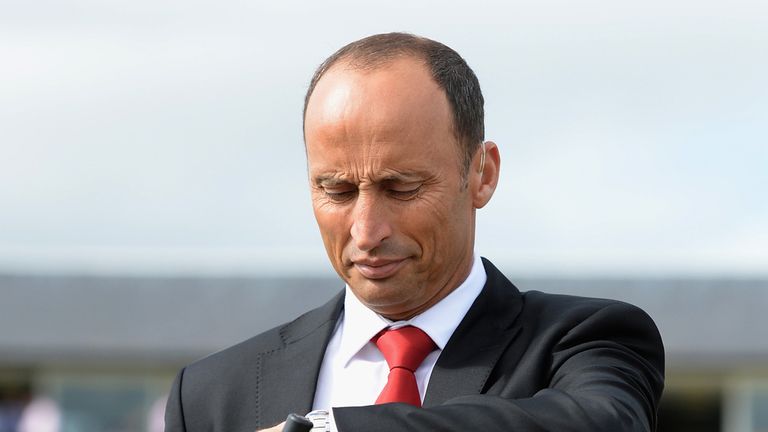 Gooch became the first victim of the Peter Moores era on Wednesday as he was relieved of his duties in the batting department.
Returning head coach Moores revealed Gooch, who has closely mentored England captain Alastair Cook, would no longer be required as he prepared to meet with fellow selectors to assemble a squad to face Scotland in a one-day international.
Sky Sports pundit Hussain believes casualties are inevitable after a change of leadership, but insists Gooch could not be faulted for his effort with the national team.
"I think there was an air of inevitability about it, what with England's disastrous winter and their batting display over the last year or two," he told Sky Sports News Radio.
"I'm still of the belief that coaches and batting coaches don't win you games, it's the players who take responsibility and those of us who have seen Graham work over the last year or two, he's been phenomenal.
"His work ethic with the players, he's the first one out and the last to leave, you can never fault his dedication and his love of English cricket."
Hussain admits there is no instant formula for success in coaching, but also believes players must start to shoulder more responsibility for their own performances.
Shelf-life
"You have your shelf-life in anything," he continued. "I played with some great coaches and they all have their shelf-life, there is only so much you can say.
"There is no magic wand as a coach that you suddenly say something and the lad goes out there and changes his game.
"Not one idea fits everyone and you do have to be flexible, if certain people don't want to use the next batting or bowling coach that's up to them really, you need to be masters of your own game."
England endured a torrid winter, with an Ashes whitewash in Australia, but Hussain warned a change of batting coach is not instantly going to result in a tangible impact on the scoreboard, although he does remain open to fresh ideas.
"I've seen the names of [Paul] Collingwood, [Graham] Thorpe, [Mark] Ramprakash, names like that banded around, who will have a few more modern theories, and maybe it's just a clean sheet for somebody with new ideas to come in," he added.
Despite the turbulent tour of Australia, Hussain remains a staunch defender of bowling coach David Saker, whom he believes should retain his place in Moores' setup.
No complaints
"The bowling department, I know they didn't fire that much, but on lots of occasions they had Australia 150-5 and I've been a big fan of Saker I have to say," he said.
"Having seen Saker work with the bowlers, I can't really complain too much about our bowling outfit.
"Fielding over the last year, some of the catching has been really bad and that is one area that England have really slipped, even in one-day cricket and the World Twenty20, the fielding was poor."
While acknowledging the inevitability of changes in backroom staff, Hussain believes England cannot lose sight of the success they enjoyed prior to their recent woes, winning back-to-back Ashes as well as securing the World No 1 ranking in the Test arena.
"I think Peter Moores has to re-jig things a little bit, but it's not all about complete change, even in selection it's not about complete change," he added.
"You have to take the good bit, and there has been a lot of good over the last three or four years of English cricket.
"I'm not as depressed as some as some pundits are about the future of English cricket. We've had a really bad six months, it's been horrendous, but before that was one of the best periods of English cricket we've ever had."