England captain Alastair Cook heaps praise on Jos Buttler
Alastair Cook hailed the display of Jos Buttler after the narrow defeat against Sri Lanka in the 4th ODI at Lord's.
Last Updated: 01/06/14 12:19pm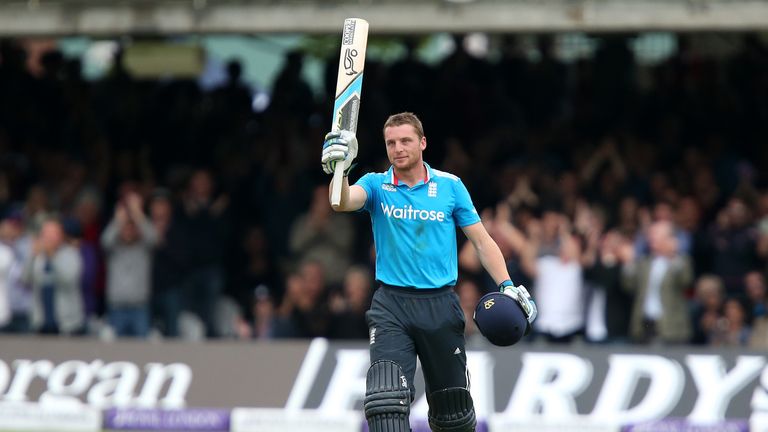 Buttler's wonderful 121 was a worthy response to Kumar Sangakkara's hundred, and carried England to within a whisker of an amazing victory after the tourists had made a daunting 300-9.
England stumbled badly in pursuit of their joint second-highest run chase in this format, but Buttler and Ravi Bopara (51) refused to give up in a stand of 133, having joined forces for the sixth wicket with 190 runs still required at more than nine an over.
"It was looking pretty bleak before those two got going," Cook said on Sky Sports 2. "It was a great partnership. When you're chasing 300 at Lord's, it's very hard to defend. We didn't quite get the first 20 overs right.
"That partnership was fantastic. It just couldn't quite get us there. We know what a special talent Jos is. The way he batted was brilliant.
"Jos played so well. He doesn't deserve to be on the losing side."
Cook acknowledged his team were always up against it after losing both openers - himself and Ian Bell - within the opening four overs.
"When you lose two wickets in the first couple of overs, there's always going to be some rebuilding," he said. "We know we have to play those first 30 overs better to chase down 300. Those outstanding innings that we're getting at the death, they're to get us above par score or to chase it down."
Sri Lanka's triumph meant the teams will head to Edgbaston on Tuesday for a series decider.
"Fair play to Dilshan and Sangakkara - they didn't give us a chance," Cook added. "I can't fault anyone for that.
"I can't fault the commitment from the lads. We've got to dust ourselves down. We've got a one-off game to try to win the series now.
All to play for
"It's been a brilliant series - another great game of cricket here today. It's obviously very disappointing to be on the losing side, but there's all to play for now at Edgbaston."
Sri Lanka captain Angelo Mathews was also impressed by Buttler's knock, but praised Lasith Malinga and Nuwan Kulasekara for their efforts with the ball in restricting the England batsmen at the end, too.
"It's one of the best things I've seen," he said. "Jos batted absolutely brilliantly. You always say you save the best for last, and we had Lasith and Kula bowling those last overs and it's pretty hard to get over 10 runs an over off them.
"In pressure situations, Lasith is the man for us, and also Kula, because they are the most experienced guys in our bowling line-up. You give the ball to them and you're pretty happy."
He added: "That was one heck of a game.
"Sangakkara and Dilshan got us through, to be honest. They batted extremely well. After losing the fist wicket, they got off to a brilliant start. We lost our way in the middle because we were looking for too many runs too early.
"All in all, 300 was a good score on this wicket."