Jos Buttler admits long-term aim is to become England Test wicketkeeper
Jos Buttler is prepared to be patient in his bid to prove his worth for England in Test match cricket.
Last Updated: 01/06/14 4:52pm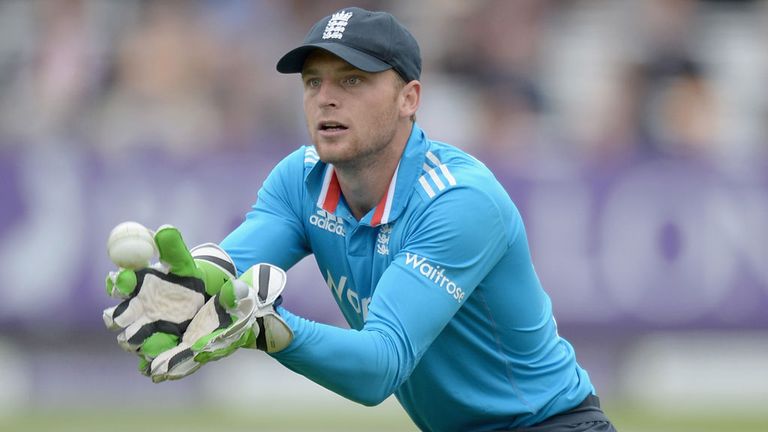 The 23-year-old thrilled the crowd at Lord's on Saturday with a stunning century that almost propelled England to an unlikely win over Sri Lanka in the fourth one-day international.
The wicketkeeper-batsman smashed a remarkable 121 from only 74 balls, but he was run out in the final over as Alastair Cook's side fell eight short in their pursuit of 301 for victory.
With Matt Prior short of form and fitness following an Achilles injury, Cook and returning coach Peter Moores could consider calling up Buttler for his Test debut against Sri Lanka.
England name their squad this week for the first Test, which starts on June 12 at Lord's, but Buttler accepts that he may have to wait a little longer before being given a chance in the five-day arena.
"I haven't discussed it with the management or Alastair," he said. "(But) I am not ready for Test match cricket.
"It is a pretty easy assumption to make, looking at my game and where I am as a player.
"That is my honest opinion, and that is the opinion of others."
Buttler believes he has work to do in front and behind the stumps to be considered as the long-term successor to Prior.
"It is my hope and ambition to turn into someone who is talked about as a Test cricketer as quickly as I can.
"I average 32 in first-class cricket - and if I wasn't playing one-day cricket, I would not be at the forefront of anyone's mind with an average like that.
Glovework
"My glovework needs to improve too, to be a Test match cricketer."
Buttler joined Lancashire from Somerset to ensure regular first-class cricket as wicketkeeper, and he admits getting his glovework up to Test standard will take time.
"I made the change to Lancashire to improve my wicketkeeping, and do it full time," he added. "You have to remember it takes time. You can't be a finished article at 23.
"You want to accelerate your development, but you want to be realistic as well.
"I am getting better. This is probably the best start I have had to a first-class season. I am starting to learn my method in four-day cricket.
"Certain guys are earmarked to play Test cricket - and based on someone's opinion, they think they can do it.
"It would be great if that was the case for me but ... I have so many areas to improve at a fast rate. It is down to me to do that."