Alastair Cook expresses disappointment over dismissal of Jos Buttler in final ODI
Alastair Cook expressed his disappointment over Sri Lanka's decision to run Jos Buttler out at the non-strikers' end.
Last Updated: 04/06/14 6:28am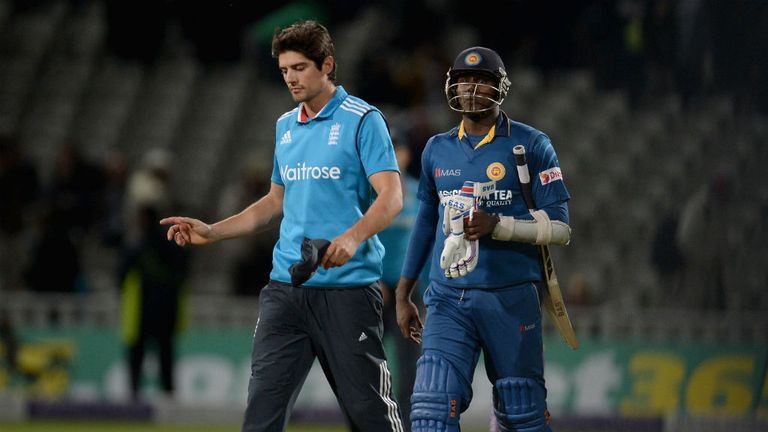 Sachithra Senanayake sparked an angry reaction from the crowd when he controversially dismissed Buttler for 21 to help ensure England stumbled to a below-par total of 219.
The unusual event is a legitimate dismissal, but it is frowned upon and captains more often than not call batsmen back in such instances although Sri Lanka captain Angelo Mathews chose not to.
It was Mathews who went on to hit the winning runs for the tourists as they got home with ten balls to spare and Cook appeared to exchange angry words with him as they shook hands at the match's conclusion.
Speaking to Sky Sports afterwards, Cook said: "I think you're going to have to ask Angelo why he did it. I'm obviously disappointed with it."
When asked if it was something he would do, Cook added: "I hope not, you don't know quite in the spur of the moment about it but you know emotion can get the better of you.
"Until you are put in a situation like that you don't know how you would handle it."
Batting issues
However, Cook - who top-scored for England with 56 - did concede that his team's batting needs to improve if they are to make an impact on next year's World Cup.
"We need to score more runs. The batters haven't been in the greatest of nick in this series with only one hundred and no one has really carried us through so probably the batting has to be an area of a bit more concern.
"We were probably about 20 or 30 short. They bowled pretty well on that wicket. It was quite slow and it suited them.
"If we'd have got 250 on that wicket they'd have found it quite tough to chase it down because we bowled pretty well there.
"On a slow wicket we got off to a good start. Everyone got in. We got 10s and 20s but if you're going to win a game of one day cricket batting first you need two of those guys to go on and get 80s and 100s. That's what sets up one day wins."
Despite losing the series, Cook put a positive spin on some aspects of the first part of the home season.
"Some good things have come out of it," he added. "Obviously Harry Gurney. Chris Jordan has carried his improvement on, but there's a few things to work on. There's a few new faces. Whether we have to tinker with a few things as well.
"Some progress has been made ahead of the World Cup. One thing which has really impressed me is our death bowling. The last 15 overs is getting better and we knew we had to improve that."
Mathews unrepentant
Delighted Sri Lankan counterpart Angelo Mathews acknowledged: "After 2006 it's a great moment for us beating England in England.
"The ball was coming on pretty nicely. It started off pretty slowly, but I thought that the bowlers after the start that they (England) got made a brilliant effort.
"I just didn't want any batsman getting used to our bowlers, that's why I had to fiddle around a bit."
Quizzed about the Buttler run out, Mathews remained unrepentant, saying: "He was taking unfair starts not only in this game but in the last game as well.
"So we gave him two warnings in the spirit of cricket, because I don't know how to stop a batsman from doing that continuously. So we had to go for it.
"I would probably stick by it (the decision) because it was completely within the rules and in the spirit of cricket we gave him two warnings for not only this game but the last game as well. So we had to go for it."