England v Sri Lanka: Moeen delighted to make key contribution in second Test at Headingley
Last Updated: 23/06/14 6:13am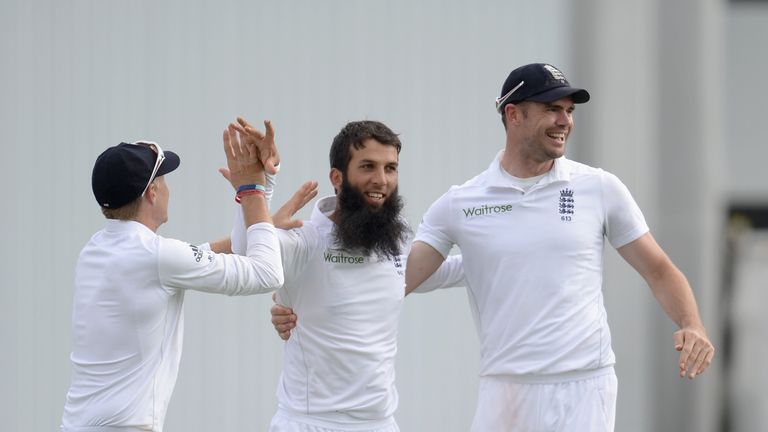 Moeen Ali relished his role as England's spin king on the third evening of the second Investec Test against Sri Lanka.
The series decider at Headingley is finely balanced, with the tourists 106 in front with six second-innings wickets in hand.
But the balance of power would have been squarely in Sri Lanka's favour had Moeen not removed Kumar Sangakkara and Lahiru Thirimanne in the space of three deliveries.
England used to routinely rely on the now retired Graeme Swann for such heroics but in selecting 27-year-old Moeen, essentially a batting all-rounder for Worcestershire, they acknowledge spin would now be taking a lesser role in their plans.
Indeed, Moeen was called on to bowl just one over of off-spin out of 55 before returning to the attack with memorable results.
"It was nice to contribute to the side, to bring us back into the game because Sri Lanka were playing really well at the time and to do it in that way was great," he said.
I was just trying to do a job for the team and thankfully it came off.
Moeen Ali
"I was just trying to bowl as straight as I could to Sangakkara, bowl a dot ball really. He's taken me down a couple of times already but I was just trying to do a job for the team and thankfully it came off."
Earlier in the day Swann, now commentating with Test Match Special, had revealed he had been asked by ECB spin coach Peter Such to work with a group of younger English spinners including Simon Kerrigan and Adam Riley to pass on the experience of his 255 Test wickets.
Moeen has already had brief discussions with Swann and would welcome the chance to learn more in the future.
"When he comes down (to the pitch) I try and speak to him here and there. Why not? He's been one of best spinners in world for last seven or eight years.
"I've spoken to him here and there and he tries to give me lots of confidence. He's told me to just enjoy it and enjoy playing for England all the time."
Doosra unveiled
One thing Swann did not have access to in his triumphant career was a 'doosra' delivery, the ball that goes the other way and has been something of a holy grail at the top level for several years.
Moeen does possess one, albeit a work in progress, and slipped one in for the first time in England colours during his evening spell.
"Yeah, I bowled one. I was feeling pretty confident so I thought 'why not?'," he said.
"It's the first one I've bowled. I just wanted to do a job for the team first because I'm not as confident with the red ball as I am with the white ball.
"He played it quite well but he did sort of say it was alright!"
Sri Lanka coach Ruwan Kalpage reflected the optimism in the away dressing room as they prepare to leave England a nasty fourth-innings chase at some stage on day four.
"It would be handy to have another 100-125 runs, 225 would be a par score," he said.
"There are a lot of chances for the bowlers and it's a difficult pitch for runs.
"The first three days the game was pretty open and the next two will be very interesting. It's a good Test match."