Alec Stewart feels Alastair Cook should stand down as captain to regain form
Last Updated: 13/07/14 9:46am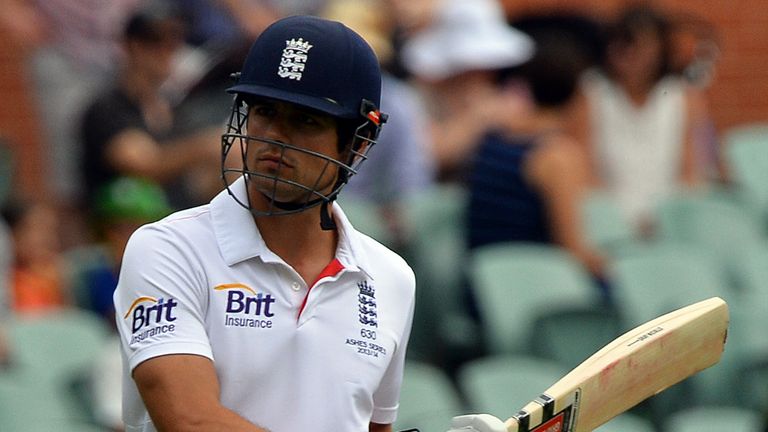 Alec Stewart feels Alastair Cook should consider standing down as England captain to try and regain his batting form.
Cook's position, both as captain and in the team, has come under increasing scrutiny as a result of his poor returns with the bat and the Test series defeat at the hands of Sri Lanka, which came on the back of England's Ashes embarrassment in Australia.
He made only five runs in his first innings in the series against India at Trent Bridge, in a match where runs have been fairly easy to come by, and former England skipper Stewart feels he may have to sacrifice the captaincy to keep his place in the team.
"I certainly don't want him dropped from the side as I believe he will repay the selectors' faith in him with a bucket-load of runs soon," Stewart wrote in the Sunday Mirror.
"But relieving him of the burden of captaincy may accelerate his return to form.
Soul-destroying
"Captaining a side that isn't winning allied with your own lack of contributions with the bat is soul-destroying. I can't believe Cook is enjoying his cricket at the moment and if the captaincy responsibilities were removed it might freshen up his mind and allow him to solely concentrate on his batting.
"It would be a brave decision to stand down from the helm but one Cook should seriously consider.
"Giving up the England captaincy is not something that should be taken lightly and Cook will be aware of that. I wouldn't see it as a weak move on his part.
"Only a strong character would do this and Cook is certainly that type of person. It would be in the best interests of the team and Cook himself because if he continues to captain a side that isn't winning and offers nothing with the bat he would have to be dropped."