Coach Peter Moores says England captain Alastair Cook must 'stay strong' amid criticism
Last Updated: 14/07/14 4:45pm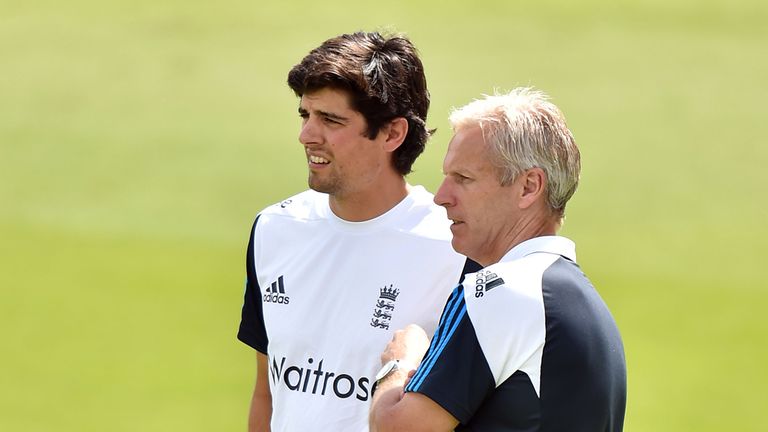 England coach Peter Moores says struggling captain Alastair Cook must "stay strong" and battle through his barren spell.
Cook is under mounting pressure after the drawn first Test with India – the ninth consecutive match England have failed to win.
And Cook's poor run with the bat continued - he scored just five to make it 97 runs in seven innings – and he was dismissed in freakish fashion, bowled round his legs off the underside of his thigh pad.
England coach Moores has no doubt, however, that Cook - England's all-time most prolific centurion, will put things right, starting in the second Test at Lord's which begins on Thursday.
It is a five-match series, and in a five-match series I expect Alastair to come through strongly - because he is a top-flight player. He has to stay strong.
Peter Moores
"It is a tough time when you are not getting runs," he said. "But Alastair is a tough player, as he has shown throughout his career.
"It is a five-match series, and in a five-match series I expect Alastair to come through strongly - because he is a top-flight player. He has to stay strong."
Moores believes Cook was unlucky with his dismissal at the hands of Mohammed Shami.
He said: "It was an extraordinary dismissal. It happens in cricket - you maybe get one in a career, two if you are unlucky.
"To get one when you desperately need a score is tough. I hope that's the end of it for him now, and he gets a few breaks.
"He has been through this situation before, and that is what makes great Test players - they can ride through it and come back strong, He will be very keen to put his mark on Lord's."
Cook's problems lie on two fronts - Test wins as well as individual runs are vital.
He had to be at his most resourceful in the field as England tried to eke out wickets in Nottingham, and won Moores' approval for his efforts.
Impressed
"What I have been impressed with Alastair is that during a really tough time for him, I think he has grown rapidly as a captain and person around the team. I thought his captaincy in Nottingham was exceptional, in a tough game.
"It was challenging, but I think he made a lot of right decisions at the right time."
Cook could do with an established frontline spinner to help him, especially if Lord's follows suit with another lifeless pitch - as has suddenly become the norm in England this summer.
All-rounder Moeen Ali took four wickets, but conceded more than 200 runs, and England have taken a gamble by calling Simon Kerrigan into their squad.
"It is difficult to bowl sides out on surfaces like that, and if we have more of them we will need a spinner to open sides up," said Moores.
"Mo spins the ball hard, but we know he is not as experienced as a frontline spinner."
It may well be over to Kerrigan, which represents a huge gamble given the slow left-armer's nightmare debut at the Oval last year.
Kerrigan was unable to land the ball anywhere near where an international bowler should, and could easily have recorded worse than his figures of 0-53 in eight overs against Australia.
As his old Lancashire coach, Moores says he is capable of much better.
"He had a tough debut, yes," Moores said. "He has worked extremely hard to get himself where he wants to be. He is a very talented bowler, a very talented young man.
"It is pretty well-known we are looking to try and identify who will be the spinner for the future.
"Simon has got a chance in the squad, and to be that spinner if he gets selected for the match."
Whoever plays at Lord's, the seamers particularly can only hope conditions bear little resemblance to what was endured at Trent Bridge - where groundsman Steve Birks took the unusual step of apologising for the pitch on day one.
Moores will be understandably frustrated if Lord's too plays to India's strengths, rather than England's.
"If it is a wicket with bounce in it, we back ourselves," he said. "We will ask for what we want - pace and bounce - and we'll pitch up and hope to get what we regard as a good cricket wicket."
Watch the second Test between England and India at Lord's live on Sky Sports 2, starting on Thursday.