Alastair Cook says England will rally behind James Anderson after India misconduct charge
Last Updated: 16/07/14 5:55pm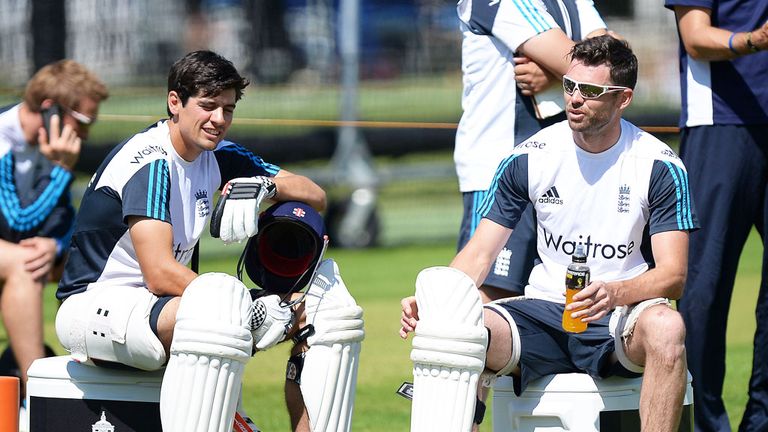 England captain Alastair Cook says he thinks the Indian complaint against fast bowler James Anderson may be a tactical move by the tourists.
Ahead of the second Test, which starts at Lord's on Thursday, Anderson has been charged under Level 3 of the ICC Code of Conduct, having been accused of misconduct by India.
Anderson is alleged to have abused and pushed India all-rounder Ravindra Jadeja after the players left the pitch for lunch on day two of the drawn first Test at Trent Bridge last week.
But the England and Wales Cricket Board (ECB) are backing Anderson and have hit back by lodging code of conduct breaches against Jadeja.
And Cook told the assembled media on Wednesday: "We are surprised it has come to the situation it has come to.
"I am going to sound a bit like (Arsenal manager) Arsene Wenger and say I didn't see it, but I genuinely didn't see the incident.
"It's probably a tactic by India, if we are being honest. Jimmy is an outstanding bowler with a fantastic record.
"We will just rally behind him and hopefully we will get the ball swinging at a certain time in this Test match.
"Jimmy will want to let his cricket do the talking."
Focus
Asked specifically if he thought India were hoping that Anderson might be suspended for part of the series as a consequence of the charge, Cook added: "Yes, I think that is pretty much where it has come from.
"It's a big mountain out of a molehill, if I'm being totally honest."
Cook confirmed that a counter-charge had been made against Jadeja but stressed that England must not allow their performance in the Test to be derailed by the row.
"We just can't let this be a distraction," said the England skipper. "We can't sit here in five days' time and talk about the build-up.
"To be honest with you, only Jimmy, and maybe myself, have been involved. The other lads have not had dealings with it.
"It has been toing and froing between Jimmy and (coach) Peter Moores, and the hierarchy of the ECB as well. Yes, there has been a charge back at Jadeja, I think that's reasonable."
Asked if he had been given Anderson's version of events, Cook added: "Yes, but I am not allowed to (outline that version).
"Because it has gone to Level 3, I am apparently not allowed to talk about the specifics of it or give my opinion."
There is clearly a danger that the four remaining Tests may be played in an acrimonious atmosphere but Cook does not think that will be the case.
"I hope not," he said. "MS (Dhoni, captain of India) and I have that responsibility as captains to make sure we control our players, and do not let that happen.
"It might make for good viewing but I don't think we'll see it."
Battle
Anderson plays his cricket in a fairly confrontational manner but Cook says he will not be telling his key seamer to calm it down at Lord's.
"No, I don't think I will," he said. "We always have a responsibility as England players not to cross the line.
"I like it when Jimmy is in the battle, because I know he is up for it and he's desperate to do well for England.
"I think people watching it get behind him and think 'there is a very competitive guy'. I think people enjoy that."
You can watch the second Test between England and India live on Sky Sports 2HD from Thursday at 10am