Ian Bell admits Graham Gooch deserves credit for his England century against India
Last Updated: 04/08/14 12:47pm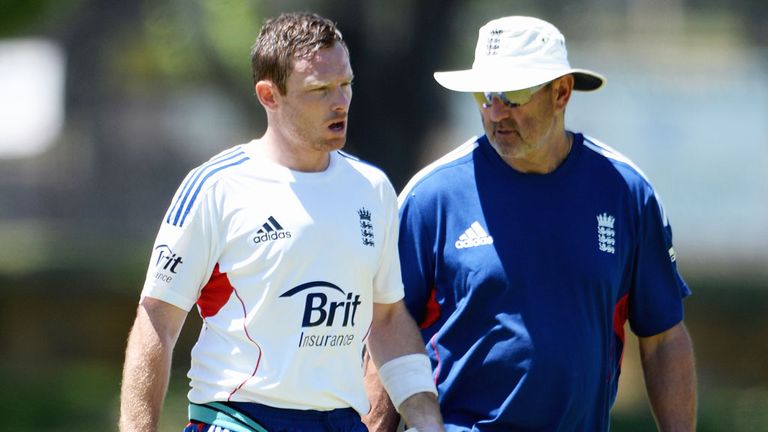 Ian Bell has revealed how Graham Gooch helped end his century drought in the third Test against India.
The England batsman finally halted his barren run at the Ageas Bowl, hitting 167 in the first innings as the hosts levelled the series with a 266-run victory.
Bell had previously gone 20 Test innings without a century and turned to former England batting coach Gooch for advice in the build-up to the match.
The 61-year-old travelled to Edgbaston for a one-on-one session with Bell, who reaped immediate dividends from his time with England's leading Test run scorer.   
"We have a really good set-up with England, but sometimes it's nice to have another set of eyes," he told the Daily Mail.
"I used to have Neil Abberley here at Warwickshire, someone you could chat through a few things with. Because they're not so attached to the game, there's less emotion involved, and it's nice to do that with Goochy - a net session with someone who can help me reconnect in a different way."
The Warwickshire player admits he might seek more coaching with Gooch, who departed his England role in May.
"He does one-on-one net sessions really well," said Bell. "He never goes through the motions.
"He puts you under the pump, which is where you are in a Test match. He never gets over-complicated or technical. It's about making sure you're in the right frame of mind.
"As Goochy always says, you should always be looking to score runs, not just to survive. It's nice to refresh that from time to time. Generally we're always exchanging text messages.
"And if he's available I try to make the most of him for a couple of hours. If I get the chance I'd like to keep doing that."
England will face India again in the fourth Test at Old Trafford, starting this Thursday, live on Sky Sports.