Barath - Time on our side
Adrian Barath remains confident West Indies will be ready for the opening Test against England despite their disrupted preparation.
Last Updated: 06/05/12 7:02pm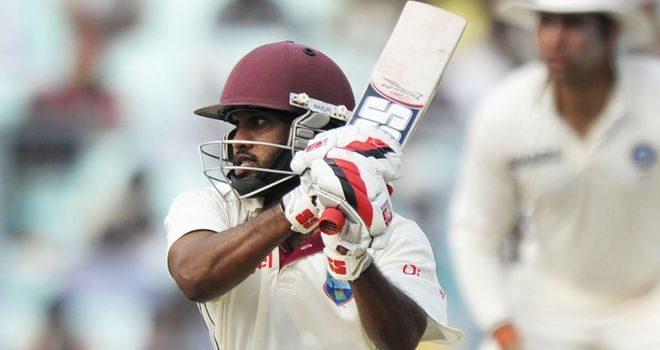 West Indies insist time is still on their side, for a reunion with their delayed team-mates and effective preparation together, before the first Test against England.
Confidence on both scores appeared undented, even though the tourists were robbed of almost another full day of cricket at Hove and have heard no update on when they can expect visa and transit issues to be resolved for Assad Fudadin, Narsingh Deonarine or Marlon Samuels.
All three remain thousands of miles away, the two Guyanese in Jamaica awaiting visas and Samuels still to begin his journey from the Indian Premier League.
Yet after the 11 players fit and available had belatedly begun their three-day match against Sussex - West Indies were 46-2 in the 18 overs possible - a team spokesman made it clear there is no particular anxiety about the progress or otherwise being made by the late arrivals.
"We are not concerned about it," he said. "We are hopeful that they will be here in time for the (England) Lions match."
That fixture in Northampton begins on Thursday, meaning West Indies have a maximum five days of competitive action left to prepare to face England.
A decidedly mixed weather forecast makes even that prospect a little optimistic perhaps.
Optimism
But opener Adrian Barath, one of the two batsmen dismissed on a murky afternoon, appears to be a 'blue-sky thinker'.
"I think there's sufficient time," said the 22-year-old. "Normally we wouldn't have all this time, coming in a week before. That will serve us well.
"We're looking to grasp the opportunity, and make every opportunity count.
"They're very important. It's good that we're here two weeks before the first Test match."
On the early-season English weather, Barath added: "I don't mind the extreme conditions. It's nice to experience these things.
"We're not surprised about these conditions. It's something we expected."