Gibson inspired by England
West Indies coach Ottis Gibson is determined to learn from England's example to help improve West Indies' fortunes over the long term.
Last Updated: 17/05/12 6:51am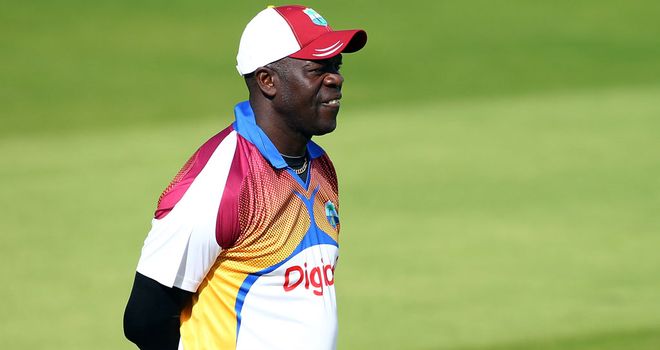 West Indies coach Ottis Gibson is determined to learn from England's example to help improve West Indies' fortunes over the long term.
Gibson left his post as England's bowling specialist to take over the Windies, just as the Andy Flower-Andrew Strauss axis was gaining momentum.
England had beaten the Australians at home in 2009, and fought hard for a 1-1 series draw in South Africa.
A strategy was not only hatched but implemented and carried through to take England to the top of the International Cricket Council world rankings.
Gibson has not been surprised by that progress, because he was in on the ground floor of England's new regime - and he is convinced the same formula can work for the West Indies.
Time will tell whether his team have the collective talent required to awaken Caribbean cricket from its long slumber. But Gibson is sure the will is there, under the captaincy of Darren Sammy.
"I've got my own views on how I think the game should be played and how I think the team should function," Gibson said.
"It's not much different to the thoughts of Andy (Flower) and the environment he has had with England.
"The guys are starting to buy into it now, and we are playing a little bit better. We're not winning, and that's a little bit frustrating. But we're improving nonetheless."
Building blocks
There were glimpses of the West Indies' potential, but telling reminders of their frailties too, in their recent 2-0 defeat at home to Australia.
Gibson is keen, of course, to accentuate the positive - as well as borrowing from the methods which helped England's resurgence.
"It started a little bit with Peter Moores, even though he didn't have the opportunity to see it through," Gibson said.
"Then Andy (Flower) took over, and the building blocks were there ready.
"The personnel were changing - similar to ours. (Michael) Vaughan was leaving; (Marcus) Trescothick was leaving; (Alastair) Cook was coming in; (Stuart) Broad was coming in; (Andrew) Flintoff was in and out.
"When you look at the change from where they were the previous year to where they ended up, where they are now, with Broad, (James) Anderson, (Tim) Bresnan - and (Graeme) Swann coming back and re-establishing himself as a world-class bowler - Strauss, Cook ... they had a lot of potential."
Other factors had to be in place too, though.
"They, like us, had to change the way they thought about the game," adds Gibson.
"Andy Flower came in and was very good for them at that time, because he's a tough character and is very determined and knew what he wanted and what he wanted his cricket team to be like.
"They bought into it, and success followed. That's pretty much what I'm trying to do in the Caribbean."
If it does all start to click for the Windies, then, be assured there is a little bit of England - and Flower's native Zimbabwe - in the winning template.