Third ODI: West Indies captain Dwayne Bravo wants his side to attack England spinners early on
Dwayne Bravo has called on West Indies' top-order batsmen to attack England's surprise bowling tactics.
Last Updated: 04/03/14 7:34pm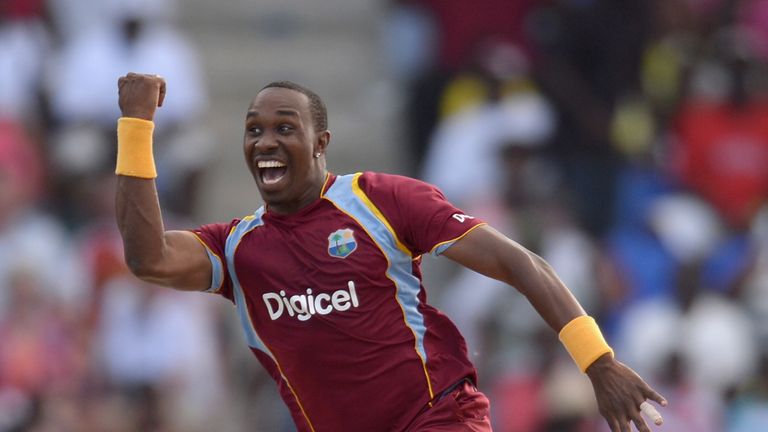 The hosts head into the deciding one-day international in Antigua on Wednesday having already twice faltered significantly when batting first.
The deployment of spinners Joe Root and Moeen Ali early in the innings has caught the Windies off-guard, leaving Bravo and the rest of the middle order needing to perform a delicate rescue act.
"That definitely played on our mind. It caught us by surprise - and we were not able to counteract it, or come up with a gameplan against it," Bravo said of England's early use of the spinners.
Bravo says West Indies will be ready this time, though, in a match to be played on the same strip at the Sir Vivian Richards Stadium which was used for the first two contests.
He added: "I know England are going to do it again. So our batters need to give themselves the opportunity to be themselves, be flamboyant, play fearless and put England under some pressure.
"If we get off to a good start - we finish games well. We have very good lower-order batting, but it's the start that has given us the problem.
Control
"So if we can do well in that first 10 overs, don't allow England to control the game early on, we can take it from there."
To that end, Bravo is hoping key batsman Marlon Samuels is fit to return - probably at the expense of out-of-form No 3 Kirk Edwards. Samuels would also add an extra spin option, alongside frontline pair Sunil Narine and Nikita Miller.
"Marlon is in consideration for selection. That's a bonus for us. He will definitely be a key with his batting and bowling as well," Bravo said.
Whether Samuels recovers from his groin injury in time or not, Bravo knows more runs on the board are a must to help him then unleash unconventional off-spinner Narine to best effect.
He said: "We definitely need to bat better. If we can put a better total on the board, we can make a better game of it.
"(Narine) is a bowler most teams struggle to play, not only England. Even India, Sri Lanka - they all struggle. He's a handful, and we're happy to have him in our squad.
"But at the same time, we can't leave it all up to him. It's a total team effort. If we don't have enough runs, then Narine is no value. We need to have runs on the board to give him the opportunity to deliver for us."