Watson wants ruthless approach
Shane Watson is keen to make a contribution with the bat in the final Test against Sri Lanka.
Last Updated: 14/09/11 8:36am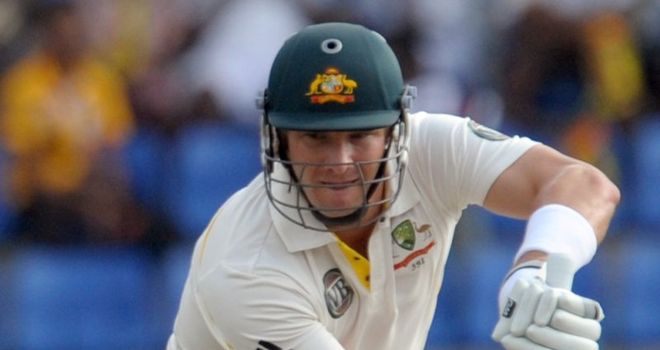 Australia vice-captain Shane Watson has admitted his side will be disappointed if they do not manage to win their Test series against Sri Lanka.
After a convincing first Test victory, Australia produced another dominant performance in Pallekele only to be denied a series-clinching success by rain and bad light.
It means that if Sri Lanka win the third Test, which starts in Colombo on Friday, the series will be drawn - something that would hurt Watson and his team-mates given their domination.
"That's the most disappointing thing about this Test," Watson said.
"We played really well throughout the whole Test and didn't get the result to be able to win the series.
Danger
"We're really going to have to be on, because if we're not on in the last Test we could draw the series.
"Given how well we've played over the last two Tests we'll be letting ourselves down if we don't play as well as we know we can and give them a chance to get back into the series."
Watson admitted that he had not succeeded as he would have liked with the bat in the series do far, after managing just 58 runs in three innings.
"It's been disappointing," Watson conceded.
"After not playing Test cricket over the last seven or eight months I've been really excited about getting into the Test cricket side of things, the batting especially. I'm hitting the ball all right. Hopefully I can turn that into a big score.
"That's the most frustrating thing, not being able to capitalise when I'm batting really well.
"I know within the team I'm a more senior player now so it is my job as a top-order batsman to be able to score big runs, and unfortunately I haven't been able to do that consistently.
"It's something I've got to get better at."
Doubt
Ryan Harris has been the star of Australia's bowling attack with 11 wickets in two matches, but is under a fitness cloud after suffering tightness in his right hamstring on the final day of the second Test.
"That (injury) has always been part of his history unfortunately. We've seen how well he's bowled in the last two Tests," Watson said.
"When he's fit and going he's definitely one of our first picked bowlers because he charges in all day and bowls well with the new and old ball.
"But that is always the question, playing three Tests back to back with his history. We'll see how he pulls up."