Ponting eager for more
Former skipper Ricky Ponting has returned to Australia declaring his intention to play on with the national side.
Last Updated: 23/11/11 9:59am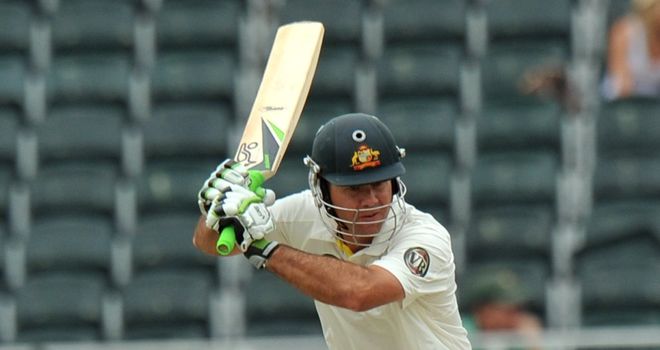 Former skipper Ricky Ponting has returned to Australia declaring his intention to play on with the national side.
The 36-year-old Tasmanian batsman, who has been in the Australian set-up since 1995, has come under pressure for his place after averaging just 20 in the past year.
But he answered his doubters - for now - with a half-century in the thrilling two-wicket win over South Africa in Johannesburg this week.
And retirement appeared a long way from Ponting's mind as he arrived back in Sydney with victorious team-mates on Wednesday afternoon.
"It's a great team to be part of at the moment. I want to be around and hopefully be able to have some sort of impact on the way the team plays," he said at Sydney Airport.
"Of course (I want to continue). I really enjoy it, always have.
"When you contribute to wins, that's what it's all about. I felt I had a part to play in the second (Test win)."
Made point
Asked if he'd made a point to his critics, Ponting responded: "It's never been about that for me. It's been about trying to be the best I can be to win games for Australia."
While current skipper Michael Clarke has thrown his support behind Ponting, the veteran believes runs will be the sole barometer for the new selection panel.
"It's nice to know that the guys you go into battle with every week are looking out for you," Ponting said.
"Michael and I have been great mates and played a lot of cricket together the last few years.
"But friendships have nothing to do with playing for Australia - I've got to keep doing my job. If I keep doing my job then hopefully I'll keep getting picked."
He now appears certain to be chosen for the first Test against New Zealand in Brisbane next week, as well as against India in a four-Test series starting Boxing Day.
Asked if he was a selector would he pick himself for the first Test against the Kiwis, a smiling Ponting repeated the question before answering: "After last week, maybe. We'll see in a few days."
Clarke backing
Clarke had earlier told the Sydney Daily Telegraph that Ponting, who has scored 12,557 runs in 156 Tests, has more to offer Australian cricket.
"I've made it clear that Ricky Ponting has been a large part of the last bit of success we've had in Sri Lanka and South Africa, and I'd love to see that continue," Clarke said.
"Ricky has 39 Test hundreds and the best batting statistics apart from (Don) Bradman as an Australian player -- if that doesn't prove something, I don't know what does.
"His work ethic, what he gives to the team off the field.... I'd love to see him making more runs like all of us, but he's been a great contributor to the team on and off the field. I'd love to see that continue."
Clarke also said he is excited at the appointment of Mickey Arthur - who spent a five-year spell in charge of his native South Africa - as new head coach, even though he is widely believed to have favoured former Test wicketkeeper Steve Rixon for the job.
"I'm stoked that we've got a coach," Clarke told reporters at the airport. "Mickey has done a fantastic job in the past with South Africa and we're just really excited and looking forward to working with him."