Captaincy sits well with Clarke
Australia skipper Michael Clarke says the responsibility of leading his country spurred him to the 2012 Allan Border Medal.
Last Updated: 28/02/12 8:04am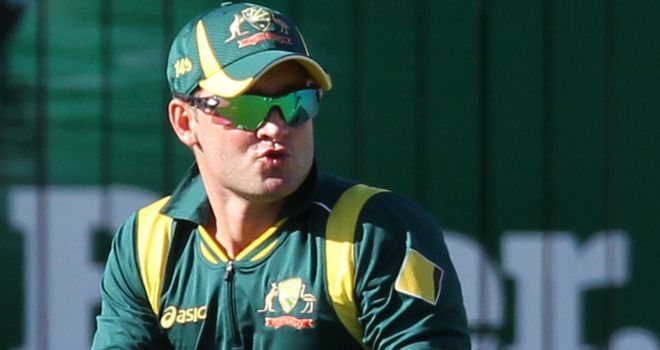 Michael Clarke credited the added responsibility of captaining Australia for pushing him on to win the 2012 Allan Border Medal.
Appointed to succeed Ricky Ponting as skipper of the Test and one-day sides after last year's World Cup, Clarke led by example with a combined 2,038 runs in the voting period in at an average of 65.74, including six centuries and seven half-centuries.
He was a runaway winner at the vote count in Melbourne with 231 votes - 57 clear of Michael Hussey on 174, Shane Watson (166) and Ponting, 141.
"I think my preparation has been as good as any year, if not better," said Clarke, who has won the Allan Border Medal twice previously, in 2005 and 2009 when he tied with Ponting.
Hard work
"The added responsibility of captaining a team has probably made me stand up and lead from the front.
"People see the rewards when you perform on the big stage, they don't see the hard work you do off the field.
"When you have the chance to go and bat for Australia, that's the fun part...because the hard work's been done.
"That allows you to go and enjoy that time on the big stage."
Clarke, whose record-breaking triple century in Sydney was the highlight of the hosts' 4-0 Test rout of India over the summer, said he believes Australian cricket is heading in the right direction.
He stressed the importance of good leadership at a time of transition.
"Especially with some young guys coming into our team this summer, it's been crucial that the senior players have stood up," said Clarke.
"When you look at that leaderboard for the Allan Border Medal you've got myself, Ricky Ponting, Michael Hussey, Shane Watson.
"The senior players are on that board and that's played a big part in the success we've had over the past 12 months.
"To see the team win is the most satisfying thing and I think that's the most pleasing thing for me over the time that I've been captain of this team."
Ponting impact
Clarke paid tribute to his predecessor Ponting and the benefits of his two years as Ponting's deputy.
"He taught me a hell of a lot, he allowed me to sit in his shoes at times," Clarke said.
"It was always open for me to go to him on the field and tell him my thoughts and views.
"There were plenty of times we disagreed, but he was more than happy to listen and hopefully I've taken a few of Ricky's traits into my captaincy.
"It's been great to have him around at the start of that journey."