Pattinson and Siddle ruled out
Peter Siddle and James Pattinson are both returning home early from Australia's Caribbean tour with back injuries.
Last Updated: 19/04/12 9:38pm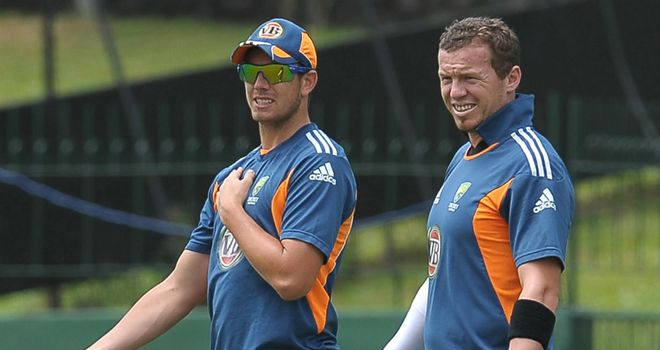 Australia will be two fast bowlers light for the third Test against the West Indies after confirmation that both Peter Siddle and James Pattinson are to return home due to back problems.
Pattinson will fly home after the conclusion of the second Test in Port of Spain after suffering pain in his lower back while fielding on day three. He will also not bat in his usual number eight position, should Australia's second innings reach that stage.
Fellow paceman Siddle, whose injury ruled him out of the current match, will travel home immediately.
Physio Kevin Sims said: "Peter Siddle developed some back soreness late in the first Test against the West Indies and scans conducted in Trinidad showed the early signs of a low back bone stress injury.
"He was subsequently ruled out of the second Test and after further consultation we feel that to prevent this injury developing any further it is in Peter's best interest for him to return to Australia to rest and for appropriate physiotherapy to ensure he is fully fit when next selected for Australia duties.
"James Pattinson had an episode of acute low back pain after fielding and throwing awkwardly late on day three of the second Test. We have since monitored his condition over the last couple of days and the initial investigations suggest that while the injury is not serious there is insufficient time for him to recover to play in the third Test match.
"As such, we have made the decision for James to return to Australia to prevent this injury developing any further and for him to receive the appropriate medical and physiotherapy management."
Australia have decided against calling up a replacement, meaning Mitchell Starc is favourite to step in for the final Test, which begins on April 23 in Dominica.